The internet is losing it over these Thanksgiving remixes of a Shirley Caesar sermon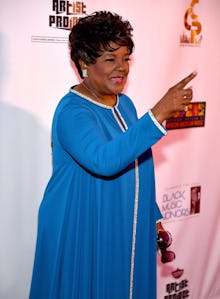 Pastor Shirley Caesar probably never expected the gospel to spread this quickly. In the last week, the internet remixed the gospel singer's sermon, titled "Hold My Mule," and turned it into the Thanksgiving anthem that you never knew you needed.
"I got beans, greens, potatoes, tomatoes, lamb, rams, hogs, dogs, chicken, turkeys, rabbits," she said in the sermon, which was posted on YouTube six years ago. "You name it!"
Here's a clip from Caesar's original video:
DJ Suede, who calls himself the "remix God," put those few words to a beat, and the internet has since gone wild with videos — and have hashtagged their posts with the #UNameItChallenge. 
Caesar finally responded to the viral video hit on Wednesday on the Willie Moore Jr. radio show. To our delight, the pastor even sang it live on air.
"I was out in the middle of the ocean and one of the members of the church showed it to me," Caesar said. "I've been doing it for years."
And here are several hilarious remixes of that snippet, which will quickly hype you up for Turkey Day.
There's the Beyoncé version:
The vegan version:
The choir director version:
The Kappa Alpha Psi fraternity version:
Chris Brown joined in on on the fun, too:
These #UNameItChallenge videos entered our hearts almost a year to the date after James "Patti Pie" Wright destroyed the internet. In 2015, Wright serenaded a sweet potato pie made by legendary singer Patti LaBelle. 
Clearly, the internet is the gift that keeps on giving when it comes to Thanksgiving. And we are forever grateful.