How does the new 'Beauty and the Beast' compare to the 1991 original?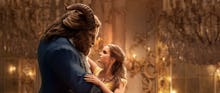 Remakes of beloved movies can definitely flop, but the full-length trailer for Disney's live-action Beauty and the Beast has been building up excitement. The official video garnered over nine million views in one day.
The 1991 animated movie is a classic, and the live-action film starring Emma Watson and Dan Stevens has a lot to live up to. From Belle's iconic dress to the sing-along soundtrack, anticipation is high for the March 17 release. The good news is that the new promo, which was released on Monday, shares some scenes that are very familiar to fans of the original movie.
The torn portrait
In the original film a young prince is cursed after he refuses to offer an old beggar shelter for the night. The beggar is really an enchantress, and casts a spell on the prince to look as ugly on the outside as he is on the inside. He spends years alone as the Beast, and his castle features destroyed portraits of how he used to look as a human.
The trailer for the live-action movie doesn't explain Beast's backstory, but it does include clips of torn portraits of a young human man.
Maurice's imprisonment
The brief scene from the live-action trailer makes it appear as if Belle's father, Maurice, gets attacked by Beast on the castle grounds. In the 1991 film Maurice stumbles into the castle looking for shelter after losing his horse. Lumiere and the others welcome him into the castle, but the Beast doesn't appreciate guests. He locks Maurice in the dungeon, which is where Belle finds him in the movie.
Breaking the spell
Trailers for the 1991 and the 2017 movie feature similar dialogue. Lumiere and Cogsworth can be heard discussing if Belle is "the one" to break the spell on the kingdom in both videos.
The wolves scene
After a particularly nasty encounter with Beast in the animated movie, Belle takes her horse and rides off into the woods. She doesn't get far though. Wolves surround her and she's forced to fight them off with a tree branch. Fortunately the Beast arrives and saves the day — just like in the scene from the live-action trailer.
The gorgeous yellow gown
Disney previously released a photo of Watson wearing Belle's yellow gown, and the Beauty and the Beast live-action trailer shows her dancing in it with the Beast. It's an iconic scene from the original movie.
Gaston's battle
It wouldn't be the same movie without Gaston. Just like the original, the remake trailer shows Gaston gathering a group of townsfolk to storm Beast's castle. The video also gives a quick look at Beast and Gaston's epic rooftop battle. Watch the official trailer below: