Here's what Abe, 2015's pardoned turkey, is up to now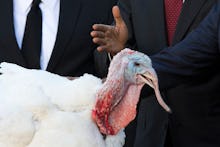 It's been nearly a year since President Obama pardoned Abe (as well as his alternate, Honest) in 2015's White House turkey pardoning, and the spared turkey has been making the most of his extended lifespan. 
After being relocated to a farm in Virginia, TOTUS (Turkey of the United States, as Obama dubbed him) settled in alongside Honest, but it wasn't all fun and sunshine following the big Thanksgiving move.
"Literally no one asked me about moving across the country," Abe told Mic in an exclusive interview. "Before the pardoning, I was living it up in California and suddenly I'm shown off and teased in front of the president and his daughters and then shipped off again to a farm? Come on, America." 
While Abe has heard rumors on the farm about what happened to his California-bred cohorts (and yes, the poultry on Abe's new farm have illegally streamed Chicken Run more than a few times), he refuses to believe that his turkey brethren ended up at dinner tables around the nation. 
"I thought, It's just preposterous? Cooking a turkey?" Abe said. "What are they going to do — stuff a 25-pound bird in an oven and gobble him up? Yeah, right." The turkey knew the annual holiday was colloquially referred to as Turkey Day, but he thought that was because turkeys were nationally honored on Thanksgiving, not slaughtered en masse. "What kind of [redacted for language] up country are you? Celebrating mass murder?" Abe still does not know the original Thanksgiving story. 
Upon learning that Obama also feasted on a turkey on the very Thanksgiving Abe was spared (and every Thanksgiving prior, thanks to a mysterious note dropped in Abe's lawn), the turkey had a change of heart. 
"The system is rigged," Abe said, "They make a big show of letting two lucky turkeys run free and then mass murder the rest? It's a grim time for America." Abe, who does not have access to cable news, is worried that a turkey may even run the White House one day, and still implement these archaic and contradictory rituals. 
Following his disappointment in the American turkey pardoning system, Abe decided to launch a lobbying group for turkey's rights last March. Unfortunately, he doesn't have much access to Washington, and planning a turkey's march on Washington proved too difficult a challenge for a turkey who already had his moment in the spotlight.
"It's not like I have any experience with political organizing," Abe said, "Or really politics in general. I'm not even eligible to vote!" Abe hopes to see a turkey in political office one day, though he couldn't quite articulate how that would work. 
In lieu of officially forming his Turkey's Rights group, Abe has been signing petitions with his left wing to mail to various congressional leaders and local politicians, to equalize turkeys everywhere.
"Why should a couple of turkeys be pardoned while the rest suffer?" Abe said, mournfully. 
On the bright side, Abe was able to move to Virginia with Honest, and the two have since fallen in love and have plans to adopt a baby chick following Thanksgiving, or what Abe calls the National Day of Turkey Mourning.  
"It was weird, I didn't even like this guy," Abe said, "But [Joe] Biden made some comments [privately] that ruffled our feathers and we totally bonded over them." Abe refused to disclose what Biden said, but said he would be willing to talk it out with the Vice President if he were willing to visit Virginia. 
Abe gets most of his news from recycled newspapers, used to line chicken crates and for other farm tasks, so he can be weeks or months behind on catching up with the news cycle. When asked about his opinion on the election results, he said he was excited to try and watch the conventions. 
We didn't egg him on with the official election results — there's only so much shock a turkey can take in November.