Black Friday is a lie: Here's why you should skip America's biggest shopping day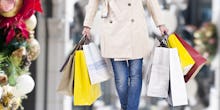 Want a real Black Friday money hack? It isn't where to get the best deals on sales — it's that you should avoid the chaos altogether and wait.
Why?
It turns out the so-called biggest sales of the year are nothing more than a "carefully engineered illusion," as a Wall Street Journal retail reporter put it.
For starters, in the months leading up to Black Friday, a lot of shops inflate their prices so that holiday discounts appear even more impressive, while companies enjoy enormous profits. 
"Consumers have been conditioned to believe that they are getting a deal in purchasing something at a discount," Bayard Winthrop, CEO and founder of domestic-made clothing company American Giant, wrote in Recode. "However, that belief is constructed by retailers whose business models have become dependent on offering discounts to customers to move merchandise that is too expensive to keep in stock."
Winthrop explains that a markdown by retailers looks good to the buyer but "often remains grossly inflated compared to production cost — an indication of overpricing to begin with."
In fact, the Wall Street Journal looked at pricing data across two to six years and discovered that most of what you buy on Black Friday actually costs more than it does the rest of the year.
If that doesn't convince you, ShopAdvisor did a study in 2014 in which it examined 6,000 products — only to discover the average savings on a Black Friday deal was less than 5%. For comparison, the average discount was 17.5% on December 18, the study found.
But holiday "deals" really work on consumers: In 2012, for example, profit margins for the 15 biggest retailers during the holiday season significantly exceeded those during the first nine months of the year.
Even so-called "doorbuster deals" aren't even real sometimes — a good reason to stay warm in your bed, not camp outside a store all night, and not get caught in a Black Friday crowd.
These amazingly priced items are reportedly sometimes sold before the store opens its doors, available online at the same discount, or are not even in stock when you go looking.
If you decide you must shop on Black Friday — perhaps it's a deeply-ingrained part of a stressful family tradition? — then at least follow tips to minimize the likelihood of getting ripped off. 
Key advice: Start by going shopping with a particular item or items in mind, so you don't just wheel your shopping cart through the aisles, pulling the latest fad item off the shelf just because it seems discounted. 
Also, do a little research into the pricing patterns of what you want: You may be surprised to discover a big-ticket item is actually sold for around half the holiday price during the summer (and we're not talking about obvious stuff like seasonal gear — think speakers).
Armed with this information, there's no excuse for ending up in the ER Nov. 25 after getting your pinky toe crushed in a Best Buy stampede.
You're welcome.