Obama's New Home: Here's where the Obamas will live after leaving the White House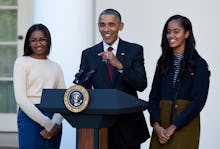 From the White House to... this also-nice house?
Come January, the United States will say goodbye — wistfully, for many — to the 44th president, as Barack Obama departs the White House one last time. It's not clear what exactly the soon-to-be former president will do after leaving office, though Obama has hinted that he'll perhaps try to help his successor, who has no experience in government, adjust to the country's highest office.
What we do know for sure, however, are details on the Obama family's future abode. In May, CNN reported that after his second and final term ends on Jan. 20, Obama and his family plan to take up residence in a 1928 Tudor located in the Kalorama neighborhood of Washington, D.C.
The 8,200-square-foot, nine-bedroom, eight-and-a-half bathroom home is worth about $7 million, CNN reported. The home reportedly belongs to former Clinton White House press secretary Joe Lockhart. It boasts a media room, an "au pair suite" and plenty of space for the Secret Service agents who will continue to protect the Obamas. Pictures show a well-outfitted home with fireplaces, a manicured lawn and a courtyard.
Many former presidents leave office and return to residences in their home states, but the Obama family reportedly plans to stay in D.C. so Sasha Obama can finish out high school, because, as her father said in March, "Transferring someone in the middle of high school? Tough."