Hate Crimes Since the Election: 3 numbers that have Trump critics concerned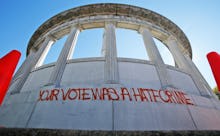 An ugly reality has emerged in the wake of Donald Trump's election to the White House: Hate crimes are on the rise. While attacks on minorities and religious groups have not risen to the worst levels in modern United States history, there has been a disturbing wave of targeted hate in the name of Trump. 
For his part, Trump has disavowed these attacks. In an interview with 60 Minutes, Trump looked into the camera and said anyone harassing minorities in his name should "stop it." 
But that has not placated civil rights leaders, activists and others concerned about the apparent motivation alt-right sympathizers have drawn from Trump's success. The president-elect's appointment of Stephen Bannon to a top White House position may further embolden the alt-right. 
Here are three statistics that support the argument that targeted attacks on specific minority groups have risen around the election. 
1. New York City has seen a significant increase in hate crimes.
Hate crimes can be extremely difficult to track. They are not always reported. They are not necessarily categorized correctly. Nearly a fifth of all city and county law enforcement agencies did not report a hate crime to the FBI in the past six years — despite evidence hate crimes were committed in their jurisdictions, the Associated Press has found.
But in America's largest city, crimes that are reported are on the uptick. Using data from the beginning of the year through Nov. 6, Politico New York showed there have been more hate crimes in 2016 in New York compared to all of 2015. Two areas of continued concern: anti-Semitic attacks and targeting based on sexual orientation.
2. Hundreds of incidents of hateful intimidation and harassment after the election
The Southern Poverty Law Center is one of America's premier organizations for tracking and monitoring hate groups. Three days after the election, the group announced reports of more than 200 incidents of "hateful harassment and intimidation." 
NBC News reported Monday the tally had risen to more than 300 incidents reported directly to SPLC.
While the Anti-Defamation League has not released an aggregate number like the SPLC, the group has monitored a spike in anti-Semitic harassment and intimidation since the election. "In the week following Donald Trump's election, there has been a sharp spike in reports of racist and anti-Semitic graffiti and vandalism, including widespread use of swastikas and other Nazi imagery," the ADL wrote on its blog.
3. A new FBI report shows an uptick in hate crimes — with an incredible 66% increase in attacks on Muslims.
This problem has been growing for some time. On Monday, the FBI released its annual Hate Crimes Statistics report. The report noted a 6% overall increase in hate crimes. But more dramatically, anti-Muslim attacks grew by 66% in 2015. According to the Washington Post, such attacks are at their highest rate since after 9/11.
The raw data revealed thousands of attacks of hate in the U.S. in 2015. According to the report, there were 664 anti-Semitic incidents and more than 1,700 attacks targeted at African-Americans. There were 257 anti-Muslim incidents. 
As noted earlier, this data is likely incomplete, prompting calls for more law enforcement agencies to report hate crime information to the FBI.