Restaurants open on Thanksgiving Day 2016: Here's where you can still get a bite to eat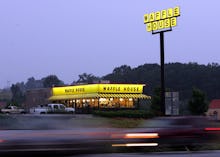 Burnt the turkey and all the sides? Fed up with your fam and need to get out of the house? Never fret, a slew of chain restaurants are committed to staying open on Thanksgiving Day, so you can stuff your face without any of the cooking or clean up. Marvelous, huh? 
And what's more American than going out to a chain restaurant and loading up on the calories? Nothing, that's what. Do note: Chipotle is dedicated to staying closed on Thanksgiving, but here are some restaurants open on Thanksgiving Day 2016 that will maybe push your family feast out of the house and into a dish-duty free restaurant. Remember to tip generously! 
Waffle House
Waffle House is committed to staying open 24 hours a day, 365 days a year, and a holiday isn't going to change that. Breakfast for Thanksgiving? Yes, please. Smothered, scattered and covered please. 
Buca di Beppo
Across the country, this family-style Italian restaurant will will be open from 11 a.m. - 10 p.m with both dine in and take out options, if you'd prefer to eat that chain restaurant food in your pajamas in front of the TV — more power too you! A special Thanksgiving menu will include sliced white meat turkey, gravy, roasted garlic mashed potatoes, spicy Italian sausage stuffing, green beans, cranberry sauce, and pumpkin pie. Individual meals are $20, service for three $60 and a large meal for six is $120. 
Maggiano's Little Italy
It's always a feast at Maggiano's, so why should Thanksgiving be any different? The Italian-American chain will be offering a special family-style Thanksgiving menu for dine in or carry out, which will include assorted bruschetta, Maggiano's salad, roasted turkey breast with giblet gravy and focaccia sausage stuffing or parmesan-crusted tilapia with sage and lemon as well as dessert options. 
Boston Market
Boston is close to Plymouth Rock and therefore Boston Market is a Thanksgiving restaurant. Order a special buffet to-go for $10.49-$13.49 per person, depending how fancy you want to get, with options like boneless roasted turkey or honey-glazed ham, order to-go a la carte or stop by the restaurant, ready to serve you rotisserie meats and mashed potatoes on Thanksgiving Day.  
Ruth's Chris Steak House
Get fancy at the steakhouse chain on Thanksgiving Day, when Ruth's Chris will be serving a special menu starting at 12 p.m. Dishes will includes seafood gumbo, Caesar salad, oven-roasted sliced turkey breast served with homemade gravy, sausage and herb stuffing and more. Dinner will be $39.95 for adults and $12.95 for children. 
Buffalo Wild Wings
If Thanksgiving is all about football (and beer and wings) to you, head to B Dubs to celebrate the holiday and camp out in front of their many screens broadcasting all the Thanksgiving Day games. Each restaurant has its own hours, according to a BWW representative, so be sure to check holiday hours before you visit. 
Starbucks 
Filling up on your whole Thanksgiving meal at a restaurant may not be your idea of a holiday, but if you need to escape for a snack or a caffeine boost post-food coma, Starbucks is your spot. Hours will change by location.
McDonald's
Want some fries with that turkey? You can supersize your feast with a quick stop at McDonald's, though hours will change by franchise. 
Applebee's  
If you want to forget about Thanksgiving all together, head to Applebee's which will be serving its regular menu, though some special restaurants will get in the holiday spirit with an "All American Holiday Feast" which will include turkey breast, mashed potatoes, gravy, garlicky green beans and fried stuffing fritters, according to a restaurant spokesperson.