Jordyn Woods implores the fashion industry to cast more diverse body types in ad campaigns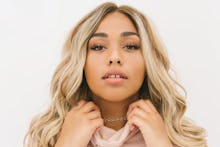 Model Jordyn Woods knows what it's like to walk into a store and not find what you want to wear in your size. She knows, not because she's done research about it; she knows because she's experienced it first hand.
"Growing up it was really difficult to find clothes that fit in with all the other girls so I was the tomboy," she said in an interview at the launch of the latest collection from her Boohoo collaboration. "I dressed in baggy clothes and big T-shirts because, one, it was comfortable and two, it was difficult to go to the mall and go to Abercrombie and Fitch and not find anything that fit." 
So when the Wilhelmina-signed model got her chance to be on the other end of the design process she kept that experience in mind.
Woods' latest Boohoo range is the second part of a collection she designed for the brand. While she describes the first, fall-centered drop as casual, it's this new holiday release that has won her favor. "Holiday is personally my favorite," she said. "It has all the sequins and all the fun pieces. There's a lot more statement pieces."
Statement pieces — like a metallic lace maxi dress, sequin bandeau tops and an all-over sequin party dress complete with a cowl front — up the feminine factor of the collection. And that's purposeful, given Woods' experience; with the collection going up to a U.S. size 21, it provides femininity in a variety of sizes that Woods saw lacking in the market growing up.
This is all a part of a larger inclusive conversation happening in fashion that spans size, race, gender and a variety of other things. Woods recognizes this.
"I think it's awesome what a lot of people are doing now with diversity and the campaigns we're seeing," she said. "They are really starting to branch out. I definitely think we have to keep pushing the boundaries and doing more. I'd love to see more designers taking the risks of using different-sized girls in their campaigns but I like what it's headed towards. I just think it has a lot further to go."
For her efforts, Woods is doing what she can to push it forward, making sure to use plus-size models (as well as herself) in campaigns and lookbook photography, as well as in the stock imagery on the Boohoo e-commerce site. According to brand representatives, this tactic has had no negative impact on sales of straight-size pieces, with some of the smallest sizes selling out first.
So what's your excuse now?