Ted Cruz may be under consideration for Donald Trump's attorney general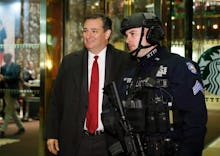 President-elect Donald Trump may be considering Texas Sen. Ted Cruz for the position of attorney general in his future administration, Bloomberg's Jennifer Jacobs reported on Tuesday evening.
Cruz met with Trump earlier in the evening at the president-elect's home base in Trump Tower in Manhattan, with the topic of the conversation not released to the media.
According to a press pool report, Cruz told assembled reporters "I am looking forward to fighting hard, to actually accomplish and deliver the promises we made. I think that it is time to turn this economy around, it is time for us to protect the Constitution and Bill of Rights, and I look forward to working very closely with the president-elect, the vice president-elect to repeal Obamacare and to confirm a strong conservative Supreme Court justice to protect the rights of all Americans."
However, some observers noted the great deal of uncertainty circulating Trump's potential choices of cabinet officials; other candidates under consideration for the attorney general post include New Jersey Gov. Chris Christie.
Trump seemingly toyed with the public on Tuesday night, posting "I am the only one who knows who the finalists are!"
The attorney general controls the Department of Justice, and thus the entire law enforcement apparatus of the federal government.
While the federal government does not directly oversee state and local police forces, the DOJ's Civil Rights division is tasked with investigating the kind of violations and excesses alleged by activists such as the Black Lives Matter movement in recent years.
For example, a recent DOJ investigation of Baltimore police alleged serious excesses on the part of local law enforcement, including harsh treatment of transgender people and rape victims.
The DOJ is also in charge of enforcing federal voting rights law, another hot-button topic in recent years given conservative efforts to push restrictive election law regulations in the wake of the Supreme Court's decision to strike large portions of the Voting Rights Act in 2013.
Cruz is known as an arch-conservative who at one time held the reins of the Tea Party movement, pushing the congressional GOP to a short-lived federal government shutdown in 2013. He served as a clerk to a federal appeals court judge in the 1990s before working for former Chief Justice William Rehnquist in 1996, and later worked in private practice as well as Texas solicitor general under Gov. Greg Abbott.
His viewpoint on legal and justice matters is as conservative as he is; in March, the New York Times noted Cruz spent much of his time as solicitor general promoting right-wing causes. Cruz's appointment to the attorney general post would be a solid sign President-elect Trump is pursuing the far-right vision on criminal justice he outlined during his campaign, as well as attempting to appeal to hardcore conservative skeptics within the Republican Party.
Cruz ran against Trump in the GOP primary this year before refusing to endorse the nominee at the Republican National Convention in July. He later caved in September, writing that after "many months of careful consideration, of prayer and searching my own conscience," he could now support Trump.