Leonid Meteor Shower November 2016: Time, best viewing spots and how to watch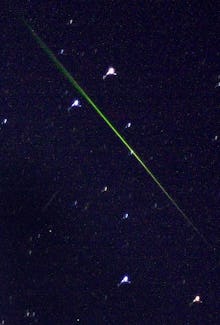 The Leonid meteor shower is an amazing light show in the sky every year in mid-November, giving skygazers the chance to see meteors, or "shooting stars," streak across the sky. However, this year, the show may not be as grand as years past, according to Space.com.
"This year, the Leonids are not in outburst, so the rates are going to be about 10 to 15 per hour," NASA meteor expert Bill Cooke told the website. The Leonids can have a meteor falling rate "as high as 50,000 per hour," according to Space.com, so in comparison, the 2016 show will be quite tame.
What time to watch the Leonid meteor shower
According to EarthSky, the Leonids will peak sometime after midnight Thursday. "In 2016, the Leonids are expected to fall most abundantly before dawn November 17, though under the bright light of waning gibbous moon," according EarthSky. Meteors will still be visible up until Monday, Space.com reported.
Best viewing spots and how to watch
One doesn't have to look in any particular direction in the sky to enjoy the Leonids. Although the shower may be easier to see in the Northern Hemisphere, Cooke said it shouldn't be difficult for people in the Southern Hemisphere to see it too. "They're not quite as good, but almost as good," Cooke said to Space.com.
Cooke suggests going outside and lying flat on your back under a dark sky to see the Leonids' best.
If waiting outside in the cold isn't for you, there is a free livestream from the Slooh Community Observatory.