Donald Trump's administration mulls bringing back Muslim registry, per report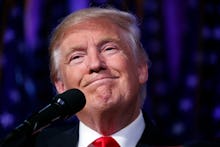 Donald Trump's transition team has discussed bringing back a program that would require Muslim immigrants to put their name on a national registry, Reuters reported Tuesday night. 
The news of the Muslim registry came from Kansas Secretary of State Kris Kobach, a current member of Trump's transition team who is said to be on the president-elect's short list for Attorney General. Kobach told Reuters that the registry has been discussed by Trump's policy advisers. 
In November 2015, Trump said he would "absolutely" require Muslims to register their name in a national database.
"They have to be," he said, referring to Muslims being put in a database. "They have to be.''
Later, Trump denied that he suggested the need for a database for Muslims. 
This is not the first time America would have forced immigrants from countries with large Muslim populations to register. 
Kobach helped craft a program called the National Security Entry-Exit Registration System in 2001 when he was working in President George W. Bush's administration after the 9/11 attacks. 
The program required non-citizen Muslims to register in a special system that also set limits on how they could enter and exit the U.S.
The program was shut down in 2011, amid heavy criticism by civil rights organizations.