Veterans Affairs abandons plans to pay for trans veterans' gender-affirming surgeries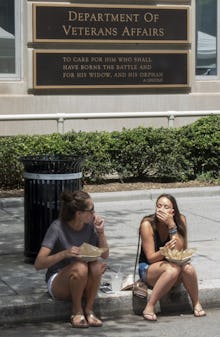 Less than a week after Veteran's Day, the Department of Veteran Affairs delivered some devastating news to transgender vets. While the VA will continue to fund hormone therapy, mental health support and long- and short-term care following gender-affirming surgery, officials have abandoned plans to fund the surgery itself.
According to Military.com, the decision came from the VA's Office of Management and Budget, whose officials said they could not find a funding plan for the surgery. But that the office squashed plans to pay for it shouldn't be considered an indication of lack of support, they said.
Citing budgeting concerns, officials told the site that the VA would "continue to explore a regulatory change that would allow VA to perform gender alteration surgery and a change in the medical benefits package, when appropriated funding is available."
Still, Ashley Broadway, president of the American Military Partners Association deemed the decision a "deeply disappointing setback" for trans veterans. 
"All of our nation's veterans, regardless of their gender identity, deserve access to the medical care they earned serving our nation," she told Military.com.
The news may also come as a surprise considering that just in September the U.S. Army said they would pay for trans veteran Chelsea Manning's gender transition surgery, marking the first time an inmate would receive such a surgery.
Manning, who is currently serving time in a men's prison for her involvement in Wikileaks, had been trying to make a case for receiving the surgery for years. Manning said her July suicide attempt had been driven by intense feelings of gender dysphoria. 
Following the military's decision to fund Manning's surgery, she said in a statement to her lawyers provided to BuzzFeed News, "I am unendingly relieved that the military is finally doing the right thing. I applaud them for that. This is all that I wanted — for them to let me be me."
It doesn't seem Manning is any closer to receiving the surgery. On Wednesday, Manning's attorney Chase Strangio wrote in a post on the ACLU website that the government is still sending Manning the message that she's being denied treatment "for [her] own good."
Now that the VA has halted any further action on funding gender-affirming surgeries, many more trans veterans may find themselves in similar positions as Manning. But Broadway told Military.com she's not done fighting.
"We implore fair-minded Americans to stand united in holding our new administration officials accountable by insisting this be fixed," Broadway said.