'Breitbart' publishes "news" about a 2010 food recall in effort to take down Kellogg's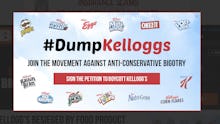 Breitbart, a politically conservative site that acts as a platform for white nationalists, is doing everything in its power to discredit the Kellogg's Company so readers will leggo their Eggos (and Rice Krispies, Pringles and Pop Tarts, among other products.) 
On Monday night, Breitbart published a story titled "Kellogg's besieged by food product recalls over listeria, glass, metal." But rest assured, cereal lovers: There's no dangerous recall sweeping the nation right now. The Breitbart article lists out five recalls, none of which have occurred in the past two months. 
The recalls cited are from the as far back as June 2010, the most recent being a voluntary recall of Eggo waffles in September 2016. Plus, one of the five recalls cited occurred in the United Kingdom. 
Are these recalls timely or newsworthy for Breitbart readers? Well, the article is the latest in a slew of Breitbart stories meant to discredit Kellogg's after the corporation pulled advertising from Breitbart in late November. After Kellogg's dropped Breitbart, the news site promoted a reverse boycott, urging readers to #DumpKelloggs, as Mic previously reported. According to Breitbart, its boycott petition had a quarter of a million signatures as of December 2, two days after it began. 
Visitors of the Breitbart site are even greeted with a pop-up notification that calls for a boycott of Kellogg's products. 
Reported news stories about Kellogg's while promoting a pop-up notification about boycotting the company could, by some standards, be considered a conflict of interest. 
Another recent Breitbart piece, titled "SHOCK: AMNESTY INTERNATIONAL BLASTS KELLOGG'S FOR USING CHILD LABOR-PRODUCED INGREDIENTS," revealed that the cereal giant was using palm oil sourced from a company called Wilmar that worked with Indonesian plantations using child labor. "Wilmar provides palm oil to Kellogg's and other producers of consumer goods," the site alleged, failing to mention the eight other global food and household goods companies who were doing business with the palm oil plantations.  
In an email to Mic, Kellogg's stated the company is committed to human rights and responsible sourcing in its supply chain. A spokesperson also noted that the palm oil Kellogg's purchases from the plantations cited by Amnesty International represents less than 1% of the global palm oil the company buys, and that the food products with the problematic palm oil are sold in China.   
The statement continued: 
We take these claims seriously and Kellogg is continuing discussions with Wilmar regarding the human rights allegations at the plantations of concern. Wilmar has shared their "Internal Assessment Report on Human and Labour Rights Issues in North Sumatra", available at this link. We are reviewing this report to understand the allegations and actions taken by Wilmar to investigate and address the identified issues. We will be continuing this discussion with Wilmar.
When asked why the company pulled advertising from Breitbart, the spokesperson stated: "We have nothing further to add on Breitbart but, to be clear, the decision was not political."
The company originally stated Breitbart isn't aligned with its values, Bloomberg reported. Values, politics... It's hard to tell the difference these days. 
"What we're seeing on Breitbart today is all about politics and advertising dollars and nothing about food safety," Jeff Cronin, director of communications at Center for Science in the Public Interest, said in an email. "Like all major food companies Kellogg's has had to conduct recalls of its products for various reasons but there's no indication that its food safety record is especially problematic." 
CSPI, a non-profit that advocates for a healthier food system, has been critical of Kellogg's in the past due to marketing issues, Cronin said, explaining the organization is currently litigating against Kellogg's over the marketing of its "Whole Grain" Cheez-Its that contain mostly white flour. "A decade ago we negotiated a settlement agreement with Kellogg's resulting in improvements in what it markets to children," he said, while stressing the Breitbart coverage had nothing to do with current food safety
"What we're seeing on ''Breitbart'' today is all about politics and advertising dollars and nothing about food safety." —Jeff Cronin, Center for Science in the Public Interest
This isn't Breitbart's first go at spawning a food boycott — nor is it the site's first 2016 attempt. After Breitbart published negative articles about Chobani, many readers called for a boycott of the brand because it employs many refugees and immigrants.
Voting with one's wallet (aka moral purchasing or consumer activism) is a time-honored American tradition — think the Montgomery Bus Boycott during the Civil Rights Movement, or more recently, the Chick-fil-A boycott after consumers were upset about the company's Christian values. If Breitbart readers and others want to forgo deliciously sugary Pop Tarts based on Kellogg's company values, that's their prerogative. 
But news motivated by brand advertising decisions could mislead consumers. Anyone who stops buying Kellogg's based on the idea that the company suffers from an extraordinary amount of recalls would be mistaken — and would miss out on breakfast staples beloved by true Americans and fictional characters (like Stranger Things' El) alike. 
Breitbart did not immediately return Mic's request for comment.