Poignant Ben & Jerry's ad spreads message of hope and unity in a sour world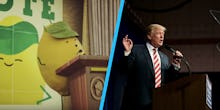 Prepare for your heart to melt faster than ice cream on a hot summer's day. 
Ben & Jerry's Europe recently produced a short ad spot called "One Sweet World," which preaches peace and unity using cartoon fruits. Set in fictional "Coneville," the ad shows lemons cheering on an angry lemon standing at a podium. The lemon has hair made of a leaf that very much resembles President-elect Donald Trump's infamous combover. 
The ad was uploaded to YouTube on Nov. 4, four days before the presidential election. Watch the full ad below: 
The ad shows angry lemons heckling one lone cherry in the crowd, who is holding a sign that says "We taste sweeter together." Later, the cherry picks up a newspaper with the headlines "Go home!" and "Vote sour." Another scene shows a raspberry getting bullied by two lemons. 
Any "resemblance to political figures is purely coincidental," Nice and Serious, the U.K.-based ad agency that produced the spot, wrote on its blog . But, c'mon — this angry lemon shares many features with America's future leader. 
Things do take a turn in Coneville, luckily. A lemon reaches out and offers an earbud to a sad cherry in a park called "Rosa Park," a clear reference to the American civil rights activist. Finally, all the fruits in Coneville are shown living harmoniously.  
"Like many people, we've become increasingly concerned by the pockets of fear and prejudice emerging within our society,"  Kerry Thorpe, public relations manager of Ben & Jerry's Europe said in an email. "We think it's time to take a stand against division and to celebrate what unites our communities."
The ad is part of Ben & Jerry's "One Sweet World" campaign, which launched across Europe earlier this year. Kerry said the brand is working with grassroots community organizations across Europe "in an attempt to promote ideas and actions that drive unity and togetherness, build common ground and ultimately drive change from the grassroots." The One Sweet World flavor (Fair Trade caramel and coffee ice cream) is not currently available in the U.S.
Ben & Jerry's has a history of speaking out on civil rights and politics. The company issued a statement on Black Lives Matter and it also wrote an open letter to the president-elect, saying the company was ready to defend its values on climate change and advocating for racial and social justice. 
The ad got a positive response on Twitter, with people praising the spot for being clever, poetic and relevant. 
Ben & Jerry's isn't the only brand that urged unity before the presidential election. Starbucks released a green cup with a mosaic of people meant to remind Americans of their shared values, Mic previously reported. 
The "One Sweet World" ad spot has a happy ending that's a little sappy. Unfortunately, "sappy" and "heartwarming" don't describe the reality in the U.S. — hate crimes have been on the rise since Trump's victory. 
Before the election, the message of unity before the election was a sweet sentiment, but comforting food cartoons clearly won't be enough to trump the xenophobia, racism and sexism that are currently souring the nation. If Americans want to come together, they'll have to do much more than watch poetic ads.