Frank Ocean finally explains 'Blonde' and why he's ghosted the world the past four years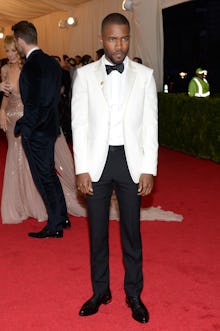 Frank Ocean, the most unknowable artist in R&B, a being less transparent than even Beyoncé, has finally broken his silence. 
The reclusive crooner hasn't offered a single substantial interview since his one-two knockout release of Endless and Blonde back in August, though both records and their accompanying Boys Don't Cry magazine left so many new questions unanswered. He finally got around to answering them in a rare published interview with Jon Caramanica of the New York Times.
In the piece Ocean resolves questions fans have been shouting into the social media void: Why did it take him four years to write an album? Why are there no radio bops on either album? What went down with Def Jam? What's next? With his winding monkish answers, he loses no intrigue in the process.
Ocean describes his past three years as three lived in self-imposed exile, prompted by a realization that everything about his career and friend circle were not as they seemed.
"It started to weigh on me that I was responsible for the moves that had made me successful, but I wasn't reaping the lion's share of the profits, and that was problematic for me," Ocean said, adding: "I had, in the midst of all of this, this feeling of isolation. Within my circle, there was a lot of places I thought I could turn that I felt like I couldn't turn to anymore."
He left Los Angeles, where he'd been an active member of the punk hip-hop outfit Odd Future, for London. But it was writers block that kept Blonde and Endless from seeing the light of day sooner. For nearly a year, Ocean would "stare at the monitors and come up with nothing, or nothing that I liked," he said.
After finally shifting through the 50 different versions he had of certain songs, like "White Ferrari," and releasing Blonde, Ocean experienced a feeling he described as "postpartum." He took off traveling to cure it: "China, Japan, Oceania, France, just around," he said. "Casual."
Ocean explains Blonde and Endless as being significantly more autobiographical than his previous works, a choice that stemmed from a conversation with an old friend from New Orleans. He also wanted the record to come buttressed by an additional triumphant storyline: his freedom from Def Jam records, which had kept him fighting for creative freedom throughout the recording process. While finishing the album, Ocean worked to buy back his masters and buy himself out of his contract.
"With this record in particular, I wanted to feel like I won before the record came out, and I did, and so it took a lot pressure off of me about how the record even would perform after the fact," he said. "It's not essential for me to have a big debut week, it's not essential for me to have big radio records."
Nor is it essential for Ocean to have Grammys. The most recent story surrounding Frank Ocean's Blonde coup involved him not submitting his album to the Grammy voting academy for consideration — an event that made Kanye West declare a tentative boycott of the ceremony. But Ocean insists the organization "doesn't seem to be representing very well for people who come from where I come from, and hold down what I hold down."
"I think the infrastructure of the awarding system and the nomination system and screening system is dated," Ocean said. "I'd rather this be my Colin Kaepernick moment for the Grammys than sit there in the audience."