Snapchat IPO: You'll be able to buy Snap stock soon — but there's a reason to be careful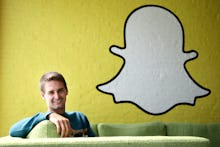 Snap Inc., parent company of messaging app Snapchat, has quietly filed for an initial public offering — when members of the public, as opposed to just private investors, can buy shares of company stock for the first time — sources briefed on the matter told Reuters.
People who want to buy Snap stock could be able to do so as early as March 2017, although details are limited since Snap's filing was confidential.
The company could be valued between $25 and $35 billion, potentially making it one of the most valuable market debuts for a tech company of all time — third to Facebook and Alibaba, the Chinese e-commerce giant, according to the New York Times. 
There's hope that — should Snap's offering go well — it could cause a resurgence for technology IPOs, which have been few and far between in recent years.
Only nine tech firms have priced IPOs in the United States so far in 2016, the worst showing in seven years, according to an analysis from Bloomberg. And the number of pricings across all industries is also at its lowest level since 2009.
Popular startups like Uber and Airbnb have chosen to remain as privately held companies, using venture capital and other institutional investors to raise the capital they need to keep growing.
Staying private has a lot of advantages for companies: Once you IPO, the public is entitled to far more information about your company. Four times a year, public businesses must release detailed performance data in earnings reports. Private companies do not have this requirement.
Now, IPOs for well-known tech companies get people really excited. See: all those articles about just how filthy rich you would be if you had bought Google or Apple or Amazon stock at their IPOs.
But, while a Snap IPO is likely to be very kind to the company's pre-IPO investors, employees, and the bankers who will run the offering — there's a good reason regular Joe investors may want to sit this one out.
That's because — while they can generate excitement and buzz, turning scruffy founders into instant billionaires — it's a misconception that by buying into a stock at the IPO price, you're actually getting "in on the ground floor."
There's a reason unicorns are called unicorns: For every soaring Apple, there is a struggling Fitbit, and wild success stories really are the exceptions that prove the rule.
A study of IPO returns by University of Florida finance professor Jay Ritter found that on average, investors in IPO stocks actually lag investors in similar companies — and lose money over the following five years after the offering.
Even if a company does well after a rocky start, like Facebook, which went public back in 2012, individual investors might not be able to stick it out long enough to recover losses.
Indeed, Facebook lost $50 billion in value just between its May IPO and mid-August of 2012, devastating the returns of everyday folks — while funds that bet against Facebook got rich.
In other words, investing in an IPO can be particularly risky.
If you do have extra cash lying around to invest in the market, it might be smarter to go with a company that has a track record.