'The Flash' season 3, episode 7 synopsis and promo video released online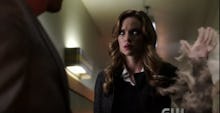 Tuesday's episode of The Flash introduced a major new villain for the series — Savitar, the god of speed — but he isn't the only villain that's set to make their appearance in season three. The third season has been teasing Caitlin becoming Killer Frost, and next week's episode could be a major turning point for the character. 
The next episode's title is pretty much a dead giveaway: "Killer Frost." The synopsis for episode seven of season three, directed by Kevin Smith, delves into more detail: "Caitlin uses her powers to save Barry, but as her mother predicted, the effort unleashes her inner Killer Frost. Killer Frost goes on a rampage looking for Dr. Alchemy, kidnapping Julian and battling both The Flash and Vibe. Meanwhile, Joe and H.R. have a heart to heart talk." 
Many fans of The Flash are excited for Caitlin's villainous turn as Killer Frost, though many admitted on Twitter that it's still quite heartbreaking. 
You can check out a trailer for season three, episode seven of The Flash below: