Britney Spears and Tinashe give the people true glory with a "Slumber Party" remix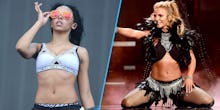 The political parties might be in abject disarray, but Britney Spears' "Slumber Party" is just starting to pop off thanks to an assist from BritBrit superfan Tinashe.
The reworked track debuted on Tuesday night at midnight with a video to follow on Nov. 18.
The "Touch Pass" singer, who just released her sophomore album Nightride on Nov. 4, hasn't been shy about her love for Spears. In September, she stopped by Planet Hollywood in Las Vegas to see Spears' show.
Rumors first began circulating of Tinashe collaborating with the Holy Spearit in mid-October when Tinashe posted a photo of her in the recording studio with the caption: "Dreams are real....#JustWaitOnIt #LegendaryShit"
A week later, speculation was confirmed when Tinashe posted a photo of the pair snuggled up together (presumably on set for the video) with the caption: "The face you make when the rumors are true and you collabed with your idol & basically your whole life is a dream so you keep it cute for Brit but inside you are wigless and dead #SlumberParty #UltimateStanGoals #WhatIsLife #ReallyHappening #????
Spears posted the photo on her Twitter and Instagram with the caption "Neighbors say we're causing a commotion," lyrics from the song.
On Nov. 15, all the built up anticipation finally came to a head with the announcement that the remix would drop the following day.
This is Spears' first female duet since 2015's "Pretty Girls" featuring Iggy Azealia or as Time deemed it, "the eighth-worst song of 2015." So even had "Slumber Party" not been a banger (which it is... and then some), fans would be hard pressed to consider this anything less than a triumph.
Here's hoping for more of that oxblood coat in the video.