Twitter just suspended a bunch of alt-right users for violating its policies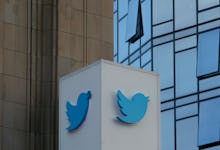 Twitter is buckling down on hate speech on the platform, a move marked by updates to its abuse policy and, seemingly, by its removal of several accounts aligned with the alt-right.
USA Today reported on Wednesday that Twitter had suspended the account of Richard Spencer, a leading voice of the alt-right movement, which is rooted in white supremacist, misogynistic and authoritarian ideologies. 
"I am alive physically, but digitally speaking there has been execution squads across the alt-right," Spencer says in a YouTube video. 
Spencer's verified account was removed on Wednesday alongside accounts for his think tank, National Policy Institute, his online magazine, Radix Journal, and a book publishing company Spencer runs, Washington Summit Publishers.
"What this leads me to believe is that there was some kind of coordinated effort to just wipe out alt-right Twitter," Spencer says in the video. "I think Twitter, and I'm sure Facebook too and some others, I think they are deeply triggered by Trump's election. ... Social media did help elect Trump. This is a clear sign that we have power." 
"This is corporate Stalinism," Spencer told the Daily Caller News Foundation on Tuesday. "Twitter is trying to airbrush the alt-right out of existence. They're clearly afraid. They will fail!"
The accounts of other alt right Twitter users —  Paul Town, Pax Dickinson, Ricky Vaughn and John Rivers — were also suspended, according to the Washington Post.
"The Twitter rules prohibit violent threats, harassment, hateful conduct and multiple account abuse, and we will take action on accounts violating those policies," a Twitter representative said when reached for comment on the recent suspensions. 
This isn't Twitter's first removal of an account associated with the alt-right movement — it permanently banned Milo Yiannopoulous from the site in July after he spearheaded a racist and misogynistic trolling spree against actress Leslie Jones. 
"We know many people believe we have not done enough to curb this type of behavior on Twitter. We agree," Twitter said in a statement to BuzzFeed following the ban. "We are continuing to invest heavily in improving our tools and enforcement systems to better allow us to identify and take faster action on abuse as it's happening and prevent repeat offenders."
But Wednesday's purge of several alt-right accounts didn't clear out all of the movement's talking heads on Twitter. For example, Matthew Heimbach, who is outspoken about his alt-right views and the "fresh face of fascism," is still active — and verified. 
Hateful conduct is a violation of Twitter's policy, which states users "may not promote violence against or directly attack or threaten other people on the basis of race, ethnicity, national origin, sexual orientation, gender, gender identity, religious affiliation, age, disability or disease." 
If Twitter users aligned with the alt-right violate the hateful conduct policy, Twitter may ask the user to remove the tweet or suspend their account altogether, depending on the severity. 
If this policy leads to the mass suspension of alt-right users, it seems they already have in mind other places to go. As Spencer notes in the video, Gab, a free speech platform, could be next. Or as IllumaSpiracist notes on reddit, a mass flock to VOAT, an aggregated news service and social network with voting similar to Reddit, is also an option.