Jared Kushner net worth: How Ivanka Trump's husband stacks up to the Trump fortune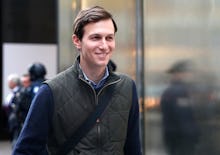 Throughout Donald Trump's campaign, his family has played a major role in advising many of his decisions. Perhaps no one has had as much influence as Jared Kushner. 
The young real estate developer-turned-presidential adviser has invested billions of dollars in New York City real estate projects since taking over the family business. The son of Charles Kushner, who was sent to prison for tax evasion in 2005 by then-federal prosecutor Chris Christie, Kushner has spent $7 billion in the city's real estate market in the past decade. 
The elder Kushner built a real estate empire, among the most prominent in New York, and was also a top Democratic party donor. At 26, Kushner closed a $1.8 billion deal for a Manhattan skyscraper — the priciest in U.S. history. He purchased the New York Observer in 2006 for nearly $10 million.
Kushner married Ivanka Trump in 2009. Together, the two have built separate real estate empires that are tied to billions of dollars worth of property internationally. Ivanka has an estimated net worth of $150 million, but her husband's wealth is even greater. 
Kushner's net worth has been estimated as high as $200 million. And while Kushner's wealth may be substantial, his reported role at the center of infighting in the president-elect's transition team demonstrates he has power to go along with his money.