Starbucks, Nike, and hundreds of other companies beg Donald Trump to fight climate change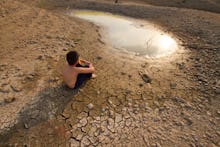 Starbucks, Nike and more than 360 other businesses and investors have called on President-elect Donald Trump and other world leaders to remain committed to the Paris agreement on climate change. 
"Failure to build a low-carbon economy puts American prosperity at risk. But the right action now will create jobs and boost U.S. competitiveness," the group said in a statement released and presented at United Nations climate talks in Marrakesh, Morocco, on Wednesday.
Other signers include conglomerate Unilever, chemicals giant Dupont, and technology company Hewlett Packard.
The Paris treaty was signed by nearly 200 countries to try and restore greenhouse gas emissions to sustainable levels by the year 2100. A major goal is to limit the rise in average global temperatures to 3.6 degrees Fahrenheit.
Backers of climate change action are concerned because there's good reason to expect that the United States might try and walk back its efforts to limit emissions in Trump's administration. 
The president-elect has called climate change a "hoax," promised to dismantle the Environmental Protection Agency, and appointed Myron Ebell — who has argued greenhouse gas emissions could actually be beneficial — to lead his EPA transition effort. 
Even Exxon Mobile, the oil and gas multinational that has had a fraught relationship with climate change activists in the past, backs the Paris agreement.
Suzanne McCarron, Exxon's vice president of public and government affairs, tweeted about the company's ongoing support of the treaty on Nov. 10, the morning after the election. 
Of course, other countries in the agreement may fight back in the event that the U.S. tries to back out.
Former French President Nicholas Sarkozy — who will also likely be his center-right party's nominee for President — has floated the idea of imposing a tariff on U.S. imports to make up for reneging on the Paris agreement's financial commitments.
That would need to be approved by other countries in the EU for it to have the desired effect, although it would pack a punch — Europe is still the United States' biggest trading partner.
The clock is ticking: September 2016 was the hottest September in 136 years, as long as records have been kept.