How to get last-minute flights for cheap before Thanksgiving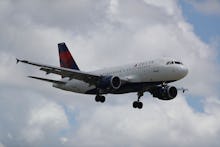 November 24 is coming up quickly but the search for last-minute Thanksgiving flights just got easier. 
We're always trying to fly smart and get the best deals, especially during a heavy travel time — like the week of Thanksgiving. Because, let's be real: Holidays are stressful enough, flying home for them shouldn't break the bank, too.
So how can you avoid blowing your entire paycheck on travel? Book your flight now. Like, right now. 
Unfortunately, the best deals of the season have more than likely come and gone. According to Skyscanner, the best time to book your in-air ventures was the week of Oct. 31, saving travelers around 7%. 
But there are a few tips and tricks you can take advantage of to make the process as painless as possible.
Don't book flights for popular days
USA Today reports the Wednesday before Thanksgiving and the Sunday after are the two worst days to travel. Monday, Tuesday and Thanksgiving itself are the cheapest day to travel.
Always. Be. Checking.
Consistently checking airline websites for offers throughout the next few days can help you track extra discounts you're eligible for. Signing up for mobile flight alerts from airlines will keep you in the loop of any last-minute promos.
Use the power of social media in your favor this week. Sales and promo codes are often posted on airlines' Twitter and Facebook accounts before they land in your email inbox or on the company's website, so keep your eyes peeled.
Relax, stay a while — literally
If you can handle a little more family time/the discomfort of sleeping in your childhood twin bed, extending your trip might actually save you some extra bucks, too. Kayak notes that in 2014, travelers who stayed through the weekend and return the week after Thanksgiving saved about 20%, compared to the average. 
Don't fret if you're late to the game. You can still book your roundtrip flights with airlines like United, South West and American Airlines.