Bernie Sanders and Elizabeth Warren named to Senate Democratic leadership team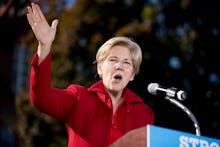 Senate Democrats voted on Tuesday to elect New York Sen. Chuck Schumer as their next minority leader, replacing outgoing Sen. Harry Reid who is retiring at the end of his term. 
Schumer promptly announced that two of the chamber's most progressive members will serve on his leadership team.
Sens. Elizabeth Warren and Bernie Sanders will be part of the minority leadership, with Warren serving as vice chair of the Democratic conference and Sanders given the newly created role of "chair of outreach."
Sanders, whose unsuccessful presidential bid energized the liberal base of the party, will also be the top Democrat on the Senate Budget Committee under Republican control.
In the wake of Hillary Clinton's stunning defeat by Donald Trump and a slew of Republican victories in the Senate, Sanders has urged fellow Democrats to reach out to white working class voters who voted overwhelmingly for Trump. 
Schumer's election as minority leader ushers in a new era of Democratic leadership in the Senate following Reid's decade-long tenure. The New York senator's decision to include Sanders and Warren in his leadership team is an effort to reach out to the liberal wing of the party and shape Democrats' policy agenda under the incoming Trump administration.
On Monday, protesters occupied Schumer's office to warn the incoming leader against cooperating with Trump, with 17 arrested by Capitol Police. The protesters, some of whom were organizers for Sanders' presidential bid, held a sit-in in Schumer's office to urge Democrats to elect Sanders or Warren as Democratic leader.
Warren issued a brief statement Wednesday following Schumer's election, saying that, "For years, Sen. Schumer has been out on the front lines fighting for Democrats. His leadership has strengthened our caucus and our party, and I look forward to continuing to work closely with him in his new role as Democratic Leader next congress."
Sanders also welcomed Schumer's election, tweeting his support Wednesday morning:
Schumer reached out to more moderate members by naming Sen. Tammy Baldwin of Wisconsin as conference secretary and Sen. Joe Manchin of West Virginia as vice chair of the Democratic policy and communications committee. Manchin frequently feuded with fellow Democrats during Reid's tenure.