West Virginia mayor resigns after response to racist "ape in heels" Michelle Obama comment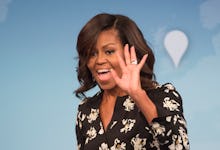 Beverly Whaling, mayor of the town of Clay, West Virginia, has resigned after backlash resulting from her response to former local nonprofit director Pamela Taylor's racist comments targeting Michelle Obama. 
Following Donald Trump's election to the presidency, Taylor had written on her now-deleted Facebook page, "It will be refreshing to have a classy, beautiful, dignified first lady in the White House. I'm tired of seeing an ape in heels."
Whaling had replied, "Just made my day, Pam." 
Joe Coleman, the town recorder in Clay, told the Associated Press that Whaling's resignation, which the town council formally accepted Tuesday, will be effective immediately.
Whaling's stepping down will certainly be met enthusiastically by the more than 179,000 people who signed a petition calling for the termination of both the mayor and Taylor, who had already been removed from her position at nonprofit agency Clay County Development as of Monday.
In a statement to the Washington Post, Whaling apologized for her comment getting "out of hand" and said she hadn't meant anything racist by it.
"I was referring to my day being made for change in the White House!" she wrote to the Post. "I am truly sorry for any hard feeling this may have caused! Those who know me know that I'm not of any way racist!"
Unfortunately for Whaling, that assertion isn't convincing anyone otherwise.
The West Virginia Democratic party — of which Whaling is a member — tweeted an official statement on Monday condemning Taylor's and Whaling's comments.
"These radical, hateful and racist ideals are exactly what we at the West Virginia Democratic Party will continue to fight against," the statement read. "We will continue to fight for a West Virginia that is inclusive, not divisive, and a home for all to feel safe, welcome and protected."