Cheap Thanksgiving flights: 3 hacks for snagging and saving on airline tickets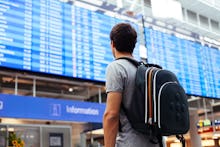 Nearly 47 million people will travel over the Thanksgiving holiday.
You want to be one of them? Let's get on it. Turkey day is a week away. 
Whether you're scrambling for Thanksgiving tickets or are getting ready for the holidays ahead, here are our quick hacks to find a cheap ticket to get you where you want to go.
Drop everything and book that flight now.
Not going to lie: You've missed the boat on big savings for Thanksgiving. 
The biggest savings on flying for Thanksgiving was the week of October 31, when travelers saved an average of around 7%, according to flight search site Skyscanner.
Booking ASAP is still a good idea though: During the week of Nov. 21 (next week!) you're going to save about 2%, the site found.
And don't worry. There are more holidays to come!
The Skyscanner research shows the biggest savings on tickets for December holiday travel is coming right up.
In fact, you can save 6% if you book your Christmas travel next week: "Hi Ma, not going to make it for Thanksgiving, but I got a sweet deal to come home for Christmas!"
And look ahead to the week of Dec. 5. That's when you'll get the highest savings for New Year's Eve travel: 10.5%.
Change your flight dates if you can.
Sometimes it pays — a lot! — to be flexible. 
Generally, the most expensive days to fly are the Wednesday before Thanksgiving and the Sunday after.
Looking at a New York to Miami flight, on JustFly.com, a $500 ticket that departs on Wednesday, Nov. 23 and returns Sunday, Nov. 27 could be knocked down to a $170 flight — if you leave Monday, Nov. 21 and return Saturday Nov. 26 instead.
That way, you're not just there for Thanksgiving; you also get to skip the crowds.
Of course, if you can get away with flying on Thanksgiving Day, there are savings to be found.
The flight aggregator Kayak showed four flights from Los Angeles to Seattle leaving on Thursday and returning Saturday for less than $265.
If the itinerary were instead changed to leave on Wednesday, there is nothing cheaper than $326. And if you shift back to a leaving Wednesday and returning Sunday itinerary, prices start at around $400.
Get off your flight halfway through (aka "hidden city ticketing").
Because of quirks in airline industry pricing, sometimes cheaper flights are available if you book a flight to a place you have no intention of going to — so long as there is a connection in that is your final destination.
It's a practice, which the airlines hate, called "hidden city ticketing" or "point beyond ticketing."
Let's say you want to go to Dallas. You buy a ticket from Washington, D.C., to Los Angeles that connects in Dallas Ft. Worth that is cheaper than a Washington to Dallas ticket.
So you get on a flight to LA, but get off in Dallas.
This practice is controversial, but Skiplagged is a site to help you find these flights. 
What Skiplagged does is not illegal, but it is generally against air carrier's rules. Many airlines, like United and American, explicitly prohibit this practice and you can lose your frequent flier status if you get caught.
United sued Skiplagged, but the suit was been thrown out.
Of course, you're not able to check your luggage if you fly this way and you would need to book two one way tickets if you expect to return.
Most airlines will cancel the remainder of your itinerary if you get off before the final destination.
Bonus tip: Snag cheap flights deals for Christmas.
With Get The Flight Out app and website, deals are offered from select cities which need to be booked within the next 24 hours for travel on specific dates in the future. They are limited-time airline deals.
The site currently lists travel departing from only Chicago, Los Angeles, Seattle, San Francisco and New York.
Right now there is a $196 flight from Seattle to Boston leaving on particular days in December and January. There's also a $190 flight from New York to San Juan, Puerto Rico, departing on days in December and January.
This may not help you for Thanksgiving, but keep it in mind for Christmas and New Year's travel.