12 powerful images from the Standing Rock protests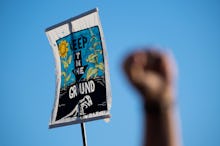 What started out as as a line of peaceful protests in defense of Standing Rock Sioux tribe's water supply has turned into the focal point of political conversation in recent months.
The Dakota Access Pipeline, a proposed $3.8 billion oil transmission line across North Dakota, South Dakota, Illinois and Iowa, was brought forth by Energy Transfer Partners. The company is reportedly preparing to tunnel under Lake Oahe, which the tribe fears will pollute local water supplies and foul its sacred tribal sites..
In late October, Senator Bernie Sanders rallied against the Dakota Access Pipeline and took to Twitter to defend the cause. 
Here are just some of the most powerful photos from the ongoing nationwide protests: