Donald Trump spokesman: Steve Bannon has "embraced diversity at every step"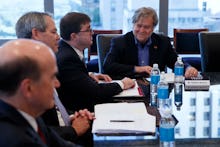 Complaints about Donald Trump choosing alt-right champion Steve Bannon as his chief strategist are just sour grapes, a spokesman for the president-elect insisted Wednesday.
"That's just folks that are bitter the election's over," Team Trump's Jason Miller told reporters at Trump Tower, according to a pool report. "They didn't get the result that they wanted."
"Steve Bannon is someone who's done a fantastic job implementing the president-elect's vision on the campaign trail," Miller said when asked if Bannon is an anti-Semite or a white supremacist. "He's someone I've had the opportunity to work with over the past three or four months, someone I've seen very high character from," 
Miller called Bannon, who ran Breitbart News before joining the Trump campaign this summer, "someone who's been a fantastic example of really being inclusive" and "who's embraced diversity at every step."
Bannon is under siege from Democrats, liberals and moderates who say he'll drag Trump to the extreme right as one of his closest White House advisors.
At the same time, Bannon's recently announced appointment as chief counselor has energized the alt-right and white nationalists who say he'll keep Trump from reneging on campaign vows including building a wall on the U.S.-Mexico border and deporting millions of undocumented immigrants. 
As Jared Taylor of American Renaissance said of Trump in an interview with Mic this week, "To in general 'racial dissidents' such as myself, it's his positions on immigration and naturalization and citizenship and taking a very hard look at who's coming into the country [that] are of interest to me, and it's my hope that Stephen Bannon will make sure that he keeps his promises in that respect."
American Renaissance, which argues that there is a war on white identity, is among the groups which decried Twitter's recent suspension of users for violating its policies on propagating threats and hate speech.
The announcement of Bannon's appointment coincided with Trump's naming of the more moderate Reince Priebus, chairman of the Republican National Committee, as his incoming White House chief of staff.
Miller told pool reporters Wednesday that Bannon would "do a great job" working with Priebus "to implement President-elect Trump's vision. And that's the important thing. There's one boss, and that's the president-elect."