Donald Trump pledged to fight monopolies, then tapped antitrust opponent Joshua Wright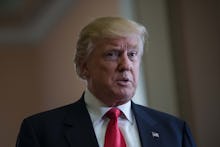 While campaigning, President-elect Donald Trump vowed that his administration would try to block the proposed merger between AT&T and Time Warner.
"As an example of the power structure I'm fighting, AT&T is buying Time Warner and thus CNN, a deal we will not approve in my administration because it's too much concentration of power in the hands of too few," the President-elect said during an October campaign rally. 
The crowd reportedly applauded.
But his supporters may soon have cause to be disappointed: Joshua Wright, a proponent of business consolidation, will be leading the transition effort at the Federal Trade Commission, which approves mergers like that of AT&T and Time Warner, the Intercept reported Wednesday.
Wright, a professor at George Mason University's Antonin Scalia Law School, was a member of the FTC under President Barack Obama, from 2013 to 2015. Wright was criticized while on the FTC because of his cozy relationship with Google, which previously funded some of his research —  that backed up Google's case that it didn't break antitrust laws, according to the Intercept.
In an op-ed for the New York Times published Monday, Wright defended mergers, arguing that "a high level of concentration in an industry simply does not mean the industry lacks competition."
He added, "mergers between competitors do not often lead to market power but do often generate significant benefits for consumers — lower prices and higher quality."
One problem: The exact opposite tends to be true, according to a number of economists. 
"Generally speaking, as industries consolidate down to fewer players, prices increase because there is less competition," John Colley, professor of Practice in Strategy and Leadership and associate dean at Warwick Business School, told BBC. "You tend to end up with less choice of products, too."
Economics Nobel laureate Joseph Stiglitz has been a vocal critic of monopolies as well.
"Some of the increase in market power ... is because firms — Microsoft and drug companies are good examples — have learned better how to erect and maintain entry barriers, often assisted by conservative political forces that justify lax antitrust enforcement and the failure to limit market power on the grounds that markets are 'naturally' competitive," Stiglitz wrote for the Guardian in May in a piece critical of weak regulation.
Another data point: ProPublica reports that Wright's former consultancy firm, Charles Rivers, has provided clients trying to fight antitrust laws with economist experts who use factually questionable or slanted formulas — used to defend criticisms of these regulations in communications with government economists.
The FTC actually had to issue Wright a waiver to be a member in 2013, as Charles River was part of a third of all merger deals the commission examined. Wright was prohibited from involving himself in cases he had direct involvement in, but he could review other deals with a Charles River connection — since there were so many.
Given Wright's track record and stance on mergers, it looks as though Trump might be walking back some of the bold anti-monopoly positions he took on the campaign trail.
Mic contacted Wright, who declined to comment for this story.