4 Purdue football players have been accused of sexual assault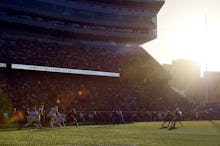 Two Purdue University students have come forward with sexual assault accusations against four of the school's football players this week.
Their allegations went public on Wednesday after the law firm representing the accusers, Massillamany & Jeter LLP, published a press release on the case, which is related to an incident from October, according to the Lafayette Journal & Courier. 
On Oct. 13, the Journal & Courier reported police were investigating an alleged sexual assault that occurred off-campus early that morning.
On Wednesday, West Lafayette Police Capt. David Van Vactor confirmed to the outlet the investigation involved four Purdue athletes. Julie Rosa, vice president for strategic communications at Purdue, said the school has already suspended the players from the football team and placed them under investigation.
In Massillamany & Jeter LLP's release, the firm calls for the students' expulsion, as the athletes are still on campus attending their classes in the meantime.
However, it's unlikely the accused will face consequences beyond the boundaries of Purdue's campus: After reviewing the evidence, the Tippecanoe County Prosecutor's Office did not file any criminal charges against the four players, according to the Journal & Courier.
According to police reports obtained by the Journal & Courier, the women told authorities they had begun having sex with two of the football players when two other football players "initiated unwanted sex" with them. The football players told police they believed they were engaging in consensual sex and said at one point a woman had asked one of them to stop, which he did. 
Still, Massillamany & Jeter LLP's press release stated at least one other student has already come forward "claiming to have been a victim of similar actions by Purdue football players in the past." In light of the apparent scope of the allegations, attorney Mario Massillamany asked that any additional victims reach out to his firm for representation and pressed the school to act fast.
"School officials must move quickly to hold these players accountable for their actions and show these victims that their voices are being heard," Massillamany stated. "Purdue and other schools have an obligation to send a message that this type of activity will not be tolerated."
In an emailed statement to the Journal & Courier, Rosa maintained that the school is addressing the allegations.
"Purdue University takes very seriously all reports of sexual assault," she wrote. "The university acted immediately to initiate an investigation upon receiving allegations from two female Purdue students relating to an incident on Oct. 13, 2016."
Mic has reached out to Purdue University for comment.