Ellen DeGeneres, Tom Hanks and Michael Jordan among 21 Medal of Freedom recipients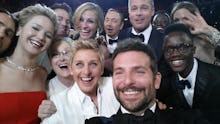 President Barack Obama released a list of 21 new Medal of Freedom winners on Wednesday, including famous faces such as comedian Ellen DeGeneres, Academy Award-winner Tom Hanks and NBA legend Michael Jordan, among others.
The winners will receive their Medal of Freedom — the highest award given to civilians — at a ceremony at the White House on Nov. 22.
"The Presidential Medal of Freedom is not just our nation's highest civilian honor — it's a tribute to the idea that all of us, no matter where we come from, have the opportunity to change this country for the better," Obama said in a news release announcing the winners. "From scientists, philanthropists, and public servants to activists, athletes, and artists, these 21 individuals have helped push America forward, inspiring millions of people around the world along the way."
Also on the list are philanthropists Bill and Melinda Gates, Grammy Award-winner Bruce Springsteen and legendary sportscaster Vin Scully.