How to create custom text message alerts for your bae on iPhone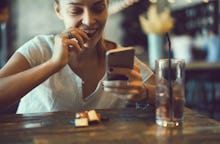 It seems like every iPhone owner has that classic "ding" alert whenever a new text message comes in. It's a patch of honor, an act of solidarity, or whatever you need to tell yourself to overcome the shame of conformity. But you know who deserves a little distinction? Bae. If anyone's worthy of a unique text alert, it's bae. 
With the iPhone, you can give an individual a custom text alert to easily identify the sender. Maybe you want to determine whether it's worth removing the phone from your pocket or maybe you just want to raise those dopamine levels when you realize bae is texting you. Regardless of the reasoning, it's an option, and a very easy one to implement at that.
All you need to do is head to the Contacts app. Locate your bae of choice and select their name. From here, you'll need to tap on the Edit button in the top right corner. Look towards the bottom of the screen and you'll see an option for Text Tone. 
Now you can easily set an alternate alert from the default dinging "Note" tone. You can even have your iPhone play an entire ringtone to commemorate the arrival of a message. And if you're really serious about this person (they are bae, after all), you can turn on the Emergency Bypass option, which'll allow sounds and vibrations from the contact even when Do Not Disturb mode is on. 
If your phone is on silent, there's an additional method to receive a special notification. In the same Text Tone menu, you'll see an option for Vibration. Opening this menu will allow you to either switch to another pre-loaded vibration ("Heartbeat" would be an applicable one) or create a custom vibration by tapping out a rhythm pattern. 
Hit "Done" when you're finished and the new text alert will be saved. That's all there is to it.