Steve Bannon quotes: Fact-checking future White House strategist's tenure at 'Breitbart'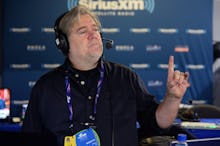 It's been a week since Donald Trump clinched the U.S. presidency, and his steps toward achieving greater unity among Americans have already raised eyebrows — chief among them the appointment of former Breitbart News head Steve Bannon as White House chief strategist.
Under Bannon's supervision, Breitbart grew from a far-right site into one mainly known for incendiary rhetoric regarding racial minorities, Jews, women and the LGBTQ communities. During the 2016 campaign season, Breitbart became one of the online nexuses of the so-called alt-right, a loosely organized network of white nationalists and other bigots that aggressively promoted Trump's candidacy.
Bannon's appointment has drawn criticism from progressive figures including Vermont Sen. Bernie Sanders, who called for Bannon's ouster, and Senate Minority Leader Harry Reid, who called Bannon a "champion of racial division." Organizations such as the Southern Poverty Law Center have created a petition to remove Bannon.
On the other hand, Republicans have largely scrambled to avoid criticism of Trump's controversial hire. 
Here's a look at some of the headlines ran at Breitbart while Bannon was in charge of it — and why they're just dead wrong.
"Birth control makes women unattractive and crazy."
Breitbart published an in December 2015 claiming birth control makes women fat and "unsexy all the time."
Though birth control does present several side effects, women using birth control pills do not gain any more weight than women not on birth control, according to some experts. Nature, one of the world's most prestigious journals of science, reported that contraceptive pills do not "cause women to put on weight," based on researchers' data from more than 40 studies.    
"There is no hiring bias against women in tech, they just suck at interviews." 
Another article published under Bannon's tenure at Breitbart claimed the real reason women are underrepresented in the tech industry is that they "suck at interviews." 
In fact, Forbes reported that "we simply don't have enough women choosing tech careers," as nearly 63% of teens "have never considered a career in engineering." Fortunately, the same report underscores that business leaders are encouraging young women to consider technical careers. 
"The solution to online 'harassment' is simple: Women should log off"
An article in July penned under Bannon's leadership suggested women were "screwing up the internet for men by invading every space we have online and ruining it with attention-seeking and a needy ... touchy feely of modern feminism."
In fact, a 2014 Pew Research Center survey found "men are more likely to experience name-calling and embarrassment, while young women are particularly vulnerable to sexual harassment and stalking."
Even if women were to log off, they constantly face harassment offline. According to a study by Stop Street Harassment, 65% of women in the United States have experienced street harassment, and 23% had been sexually touched. 
"After the Pulse club massacre, it's time for gays to come home to the Republican Party"
A day after the worst carnage in U.S. history, where 49 people died in Orlando, Florida, Breitbart published an article declaring that then-presidential candidate Trump was the "only" man who can "protect all gays." It also called on the LGBTQ communities to join the conservative movement, underscoring that "a conservative Supreme Court granted gays the right to marry."
Surely there are gay Republicans, but even they have grappled with the party's contradictions on gay rights. Katie Zezima of the Washington Post reported that "more than a year after the Supreme Court granted gays the right to marry nationwide, the Republican Party adopted a platform that urged that ruling to be overturned."
The LGBTQ communities have expressed concern regarding Vice President-elect Mike Pence's stances against their rights, and the most prominent gay Republican lobbying group, the Log Cabin Republicans, refused to endorse Trump's ticket before the election.
On progressivism and victimhood
In a 2011 radio interview with Political Vindication Radio, BuzzFeed reported Bannon said "the progressive narrative [is] all about victimhood. They're either a victim of race. They're a victim of their sexual preference. They're a victim of gender. All about victimhood and the United States is the great oppressor; not the great liberator."
A Pew Research Center study published in June found stark differences between black and white adults in their views of racial discrimination. Eighty-eight percent of African-Americans believe the country must continue to make strides in equal rights, whereas just 53% of whites believe the United States still needs to make progress on achieving equality between blacks and whites. In addition, an economic gap between whites and blacks still persists and it has widened in several cases.