People are rushing to get IUDs before Trump takes office. That's not a good sign.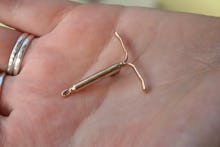 Dr. Anne Davis doesn't usually talk politics with her patients. But last week, she didn't have a choice. In the week since Hillary Clinton conceded the presidential election to Donald Trump, Davis' New York City gynecological practice has been inundated with patients.
"I got an email this morning that said, 'To be honest, I'm pretty terrified about birth control given the results of Tuesday. I'm looking into an IUD, which should cover the next five years,'" Davis, consulting medical director of Physicians for Reproductive Health and a professor at Columbia University, said in a phone interview. "Forget abortion rights: People don't know what's going to happen to birth control, and they need it."
Trump has declared himself "pro-life" and said he would appoint conservative justices to overturn Roe v. Wade. He has also pledged to repeal the Affordable Care Act, which requires insurance plans to cover contraception and has helped a massive number of people get birth control at no cost. Over a period of nearly two years after ACA was enacted, the percentage of patients who got IUDs at no cost went from 45% to 62%. The vice president-elect, former Indiana Gov. Mike Pence, has enforced a slew of state-level policies that are downright hostile to women's health, including an anti-abortion law so extreme women began calling his office to tell them about their periods — since, y'know, he's so invested in their reproductive lives.
Faced with the prospect of cuts to reproductive health care and insurance coverage, providers like Davis have seen an uptick in patients seeking long-acting, reversible contraceptives, or LARCs, including intrauterine devices and other implants. IUDs have proven to be among the most effective tools for preventing pregnancy. 
What's more, they can last up to a decade, making them appealing to women who want to make sure they won't lose access to contraception during the Trump presidency. In the days after the election, Google Trends data revealed a significant increase in searches for information about LARCs; searches for the term "IUD options" went up 110% in the first few days after the election.
"The fears are understandable based on the president-elect's statements," Ushma Upadhyay, an associate professor of obstetrics and gynecology at the University of California, San Francisco, said by email. "I think the rush to get IUDs is one way of heading off hard times in a period of uncertainty."
Brooklyn, New York, resident Rachel Walden's plan to get an IUD before Inauguration Day has made her feel better, but it's cold comfort. Though she has happily been on the same birth control pills for several years, she intends to make the switch just in case she can't afford her prescription under Trump.
"I keep saying, 'We had it pretty good under Obama,'" Walden, 24, said by email. "But now, I've had to dedicate a lot of time to researching and worrying about something that's been guaranteed to me for my entire adult life."
The protections women are afraid of losing won't go away as soon as the Trump administration takes office. Unless Republicans want 20 million Americans to lose their health insurance overnight, it will take some time to "repeal and replace" Obamacare. Overturning Roe v. Wade will also take more than appointing a few conservative Supreme Court justices. But the incoming administration's rhetoric about reproductive health — from suggesting punishment for women who have abortions to describing the procedure in inaccurate, graphic terms — has been enough to get patients thinking ahead.
Even for those who already have access to free or affordable long-acting contraceptives, the decision to get one before Trump takes office feels like a form of coercion.
"I didn't have an IUD before because ... I was [on the pill] and I was never the person to think 'I should try something else,'" said Lauren Burton, a 25-year-old from Austin, Texas. "Now it's like that's not an option anymore. I can afford an abortion on my own, but if [Roe is overturned] and that's not accessible or I have to go to another state, there's no way for me to do that."
"By now I know what my options are and what works and what doesn't. I can't use an IUD..."
Some women feel pressure to have an IUD implanted before the new administration takes office even while satisfied with their current method of birth control.
"It took me a while to find a pill that worked for me and my body, and I've been consistently, and happily, on the same brand for about four years now," Walden said. "Switching pills or switching from pill to IUD will undeniably have a hormonal and emotional impact."
While the influx of IUD-seeking patients shows the anxiety many uterus-havers are suffering from, getting long-acting birth control isn't an option for those who need the drugs used to prevent pregnancy for health or hormonal reasons — or those who can't afford to shell out hundreds of dollars for an IUD because their insurance doesn't cover the full cost.
"For me, I am just at a loss," Priya Gupta*, a 30-year-old who lives in New York City, said in an email. "By now I know what my options are and what works and what doesn't. I can't use an IUD because it didn't work for my body. I need birth control for obvious reasons, but also for hormonal issues. So unless it's affordable somehow I have to find a way to budget for it. If I had a partner, we would split the cost. But I am a single woman."
The pressure to make these decisions quickly also impacts the way some young women are thinking about childbearing in general. Twenty-nine-year-old Ashley Park, who also lives in Brooklyn, gets her insurance through the health insurance marketplace, and plans to replace her IUD a year before she needs to, before Trump is sworn in. Where she felt excited about the prospect of having children in the next decade thinking about Clinton taking office, Trump's antagonism toward reproductive health and family planning has made her rethink whether she'll ever have kids.
"Under [Trump], I feel like the government — and the voters who put them there — could not give a fuck about my success in the world," Park said. "I don't care what kind of bullshit parental leave policies Ivanka is spouting, I don't plan to bring children into the world while he sits in power."
Correction: Nov. 22, 2016