Ethical questions abound as President-elect Donald Trump sues DC over hotel taxes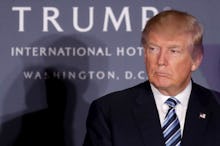 Republican President-elect Donald Trump refiled a previously dismissed lawsuit against D.C. authorities claiming he was overtaxed on his development of the Trump International Hotel in downtown D.C., Bloomberg BNA reported.
In the lawsuit, Trump and several of his adult children claim their federally contracted redevelopment of D.C.'s historic Old Post Office on Pennsylvania Avenue was taxed as a "fully functional and rent-producing commercial office building" while it was still a "shell of a non-operational building undergoing a massive conversion to a hotel." While the lawsuit was originally dismissed on Oct. 27, according to Bloomberg BNA, the court "allowed Trump to refile separate petitions for each of the lots involved in the Trump International Hotel."
The Old Post Office, built in 1899, is a federally owned building that Trump has run since 2013, when he won a 60-year, $3 million annual lease to redevelop it as what is now the Trump International Hotel from the General Services Administration. Trump's securing of the contract was controversial, and as BuzzFeed reported in April, Trump reneged on several promises, including ones to bring in a "multibillion-dollar real estate investment firm with a rock-solid financial reputation" and a specific architect advocating the building's renovation.
Trump took control of the building in 2012, when D.C.'s Real Property Tax Appeals Commission regularly issued "huge assessment reductions to commercial property owners," according to Slate, but the commission has since dramatically cut those reductions — meaning the Trumps may be facing worse investment prospects than they originally bargained on. The Trumps have alleged the lease's valuation is in fact worth roughly $63 million less than D.C. authorities say.
The lawsuit also raises ethical questions; in several months, Trump's administration will have the power to appoint a new GSA director. That sets up the uncomfortable prospect that the Trump children, who the president-elect has said will be in charge of his businesses, could seek to renegotiate the building's lease with a GSA led by a person appointed by their father.