'Lion' Review: Dev Patel movie tackles questions of home with heart, if not expert craft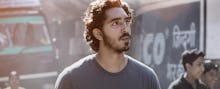 What makes a home? Is it the place you grew up, or where you were first birthed? Is it the family you create, or the one you're born into? How flexible is the idea of home? Those are the questions at the heart of Lion, director Garth Davis' entry into the 2016 Oscar race.
They're questions worth mulling over, and Lion works as a meditation on them. It even works as an entertaining and heartwarming true story about a man, Saroo Brierley (Dev Patel), who seeks to learn about and find his birth mother (Priyanka Bose) more than two decades after being adopted by an Australian family. As a piece of cinema, however, it's not quite that enthralling.
The movie is essentially bisected into two parts: the search, where Patel plays Saroo, and his early life, where Saroo is played by young actor Sunny Pawar. Unfortunately, most of the actual search is Saroo playing with Google Earth and fighting with his girlfriend Lucy (Rooney Mara), so the younger Saroo's sudden journey across India is far more enthralling to watch. Much of that is thanks to Pawar, who is a uniquely charismatic child actor.
Patel is very good as older Saroo, but it's a bit disheartening to watch him play another aged version of a young protagonist from India. He did the same thing in his breakout role in Slumdog Millionaire, and that was eight years ago. It doesn't help that two of his few films since Slumdog are the two Best Exotic Marigold Hotel movies, in which he plays a hotel manager in India. Patel's character in Lion trains to be, you guessed it, a hotel manager. It's hard not to guffaw at the suggestion that this role is a "once-in-a-lifetime" opportunity for Patel.
To be clear, Patel has a real handle on this type of character. Any frustration with the sameness of his roles is no knock against him. We'd just love to also see him in other kinds of films, too. Unfortunately, the film industry continues to fail to open doors for immensely talented people of color. That's not Lion's fault, of course, but it makes it a bit more frustrating to watch.
If there's a likely Oscar nominee from Lion, it'll be Nicole Kidman, who plays Saroo's adoptive Australian mother Sue. She gets the bulk of the movie's most emotional scenes, from her joy at adopting Saroo to her slow breakdown upon realizing her family is fracturing. Kidman is a veritable living legend at this point, still turning in bracing performances in movies like Rabbit Hole and The Paperboy well into her career. If her Lion performance is a bit safer, that's fine; she still brings great gravitas that transcends an otherwise basic film.
That's the thing about Lion: It's near-impossible to imagine anyone talking about it in five years. It will be the best picture nominee you struggle to remember at Oscars trivia. It's a fine, enjoyable endeavor that doesn't reinvent the wheel. There's certainly a place for that, but it will never stand up to more ambitious movies this year, like Moonlight and Arrival.
But if you're home for Thanksgiving or the winter holidays and need something safe and heartwarming to see with family, you can't go wrong with Lion. It's made for that.
Lion hits theaters on Nov. 25.