Shelley Duvall's Dr. Phil Interview on Mental Illness: Everything we know so far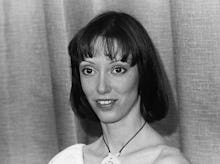 In the 1970s and 80s Shelley Duvall was truly a huge movie star. She had won the best actress award at the Cannes Film Festival for her work in Robert Altman's 3 Women, had a small role in Woody Allen's Annie Hall, and made waves for playing the wife of Jack Nicholson's maniacal Jack Torrance in Stanley Kubrick's The Shining adaptation. 
The actress, now 67, hasn't been seen in the public eye for some time—retiring from acting in 2002 after appearing in the small indie film Manna from Heaven. But now, over a decade after her last role, Duvall has agreed to an interview with Dr. Phil, where she appears—at least in the promo video for the special—to be suffering from some sort of mental illness.
In the clip for the special, which airs on Dr. Phil's daytime talk show Friday, Nov. 18, we see Duvall express some of her current preoccupations. The former actress states that she believes Robin Williams is still alive, and when Dr. Phil asks, "Where do you think he is?" Duvall responds, "Shapeshifting." The clip also reveals some of the other paranoias and delusions she is suffering from, which include a belief that she is being threatened by the Sheriff of Nottingham, the primary antagonist in Robin Hood. 
With the interview airing Friday, we'll hopefully learn more about Duvall's health. Check your local listings to find out what time Shelley Duvall's Dr. Phil interview is airing on Friday.