Hillary Clinton wore little makeup for her speech last night — and people loved it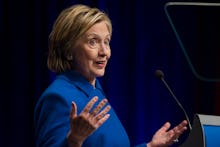 It'd be an understatement to say that former secretary of state and history-making democratic presidential nominee Hillary Clinton has had a very, very, very hard week. 
We all know what happened, so let's not revisit it. 
What matters now is that Clinton has made her way back into the spotlight. At an event for the Children's Defense Fund in Washington, D.C., on Wednesday night — her first public appearance since her concession speech — she had an unexpected, rather refreshing look: wearing far less makeup than usual, her hair without its signature waves. 
As a human being, not wearing makeup should absolutely not be a big deal at all for Clinton. But as a politician who has been under an intense spotlight for years, making her first appearance with a nationally televised speech and not wearing much makeup, it felt like a statement. 
Twitter thought so too. 
For some, it appeared as though Clinton had just about had it. Months and months of attempting to look polished every second is exhausting, and now, after the election, Clinton can relax and look how she wants to look. 
To others, it was honestly endearing. 
During her speech, Clinton noted that she's taken the election results hard. 
"There have been a few times this past week when all I wanted to do is just to curl up with a good book or our dogs and never leave the house again," she said. 
But she is optimistic about the state of our country and insisted that there is "common ground to build upon." 
"The divisions laid bare by this election run deep, but please listen to me when I say this: America is worth it, our children are worth it. Believe in our country, fight for our values, and never, ever give up," she continued. 
As with anything Clinton does, though, she of course had her critics last night, noting that she looks tired and upset. 
But who's to tell a former first lady, secretary of state and presidential nominee how she should look? Hillary Clinton, just like every single other person on earth, can choose to look however she wants to look, and that's damn beautiful unto itself.