Who is Grindelwald? 4 things to know about the 'Fantastic Beasts' villain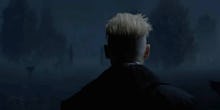 Whether fans are happy with the decision or not, Johnny Depp is going to have a key role in the next Harry Potter cinematic franchise, Fantastic Beasts and Where to Find Them. After the news that Depp was cast in a mysterious, unknown role for the series, many fans theorized that he would play a younger version of the dark wizard Gellert Grindelwald. This was later confirmed by J.K. Rowling, who has raved about Depp's approach to the role. 
"Watching him create a character is fascinating," Rowling told MTV. "It's been quite inspiring to me as the writer. I feel he's got quite an interesting approach to creating a character." 
For those among us who are not familiar with Grindelwald, he'll likely have an important role in Fantastic Beasts as a major antagonist. Basically, he could be the Voldemort equivalent for the new films. Ahead of the first Fantastic Beasts Nov. 18 release, here's what you need to know about Grindelwald and how he fits into the wizarding world. 
Grindelwald and Dumbledore may be romantically linked. A Dumbledore casting for Fantastic Beasts has yet to be announced, but we know that he'll also be involved in the franchise's future. This makes sense, considering he and Grindelwald are intrinsically linked as adversaries, as well as potential romantic partners. 
When Rowling revealed that Dumbledore was gay in 2007, she explained that Dumbledore was drawn to Grindelwald and fell in love with him. Grindelwald, meanwhile, didn't reciprocate these feelings; he was solely after personal gain. 
"That added to his horror when Grindelwald showed himself to be what he was," Rowling explained. "To an extent, do we say it excused Dumbledore a little more because falling in love can blind us to an extent? But, he met someone as brilliant as he was, and rather like Bellatrix, he was very drawn to this brilliant person, and horribly, terribly let down by him." 
Grindelwald and Dumbledore have an epic duel we'll probably witness on-screen. The news of Grindelwald and Dumbledore being in Fantastic Beasts has led many fans to believe that we'll eventually be treated to an important duel between the two wizards.
Dumbledore defeats Grindelwald in 1945 in Europe and retrieves the Elder Wand. The wand is used later in the Harry Potter movies when Harry duels Voldemort. The confrontation between Grindelwald and Dumbledore is regularly described as the greatest wizarding duel of all time. This means we're almost certainly poised to see the duel on-screen; there will be five movies and a considerable amount of hype to live up to. 
Grindelwald's role may explain why there's going to be five movies. If the Fantastic Beasts films lead to the Dumbledore-Grindelwald duel, then the franchise is looking to span 19 years of wizarding history, which could explain why it was expanded to five films.   
The first film stars Newt Scamander, played by Eddie Redmayne, and takes place in New York in 1926. Presumably, this would achieve the main goal of the title of the series: His beasts, fantastic as they may be, are released around the city and he must attempt to find them. It shouldn't take five films to capture all these beasts, so by the end of the franchise, Newt's story could be overshadowed by the fates of Dumbledore and Grindelwald and a potential romance between the two wizards. 
Still unsure? Well, Ezra Miller, who plays the mysterious wizard Credence in the first film, explicitly says so in a Fantastic Beasts featurette. 
"Now think about it with me," Miller explains. "Fantastic Beasts takes place in 1926, which is around when Grindelwald was beginning his attacks across Europe. Which might be connected — might not be connected — but might be connected to Grindelwald's rise to power." 
OK, we believe you. 
Many fans are understandably upset with Depp's casting. While Depp's Grindelwald will only have a cameo in the first Fantastic Beasts film, his ongoing role in the franchise — which will now be stretching to five, yes five, films — has drawn the ire of fans. The Depp controversy stems from the ongoing domestic abuse allegations with Amber Heard. 
Heard reached a settlement with Depp in August, but many Harry Potter fans are nonetheless upset with the actor's involvement after the disturbing allegations from Heard.