Donald Trump is expected to pick Michael Flynn for national security adviser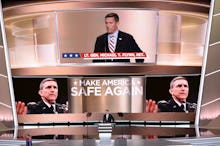 Michael Flynn, the man who led the "Lock her up!" chant while speaking at the Republican National Convention, is likely to be President-elect Donald Trump's national security adviser. 
Trump is considering retired Lt. Gen. Michael Flynn, a three-star general who has been a vice chair on the Trump transition team, for the role, NBC reports.
A staunch Trump loyalist, Flynn has been advising Trump since before the primaries, and violated the military code of conduct to remain nonpartisan by publicly endorsing Trump during an impassioned RNC speech.
From 2012 to 2014, Flynn served as the head of the Defense Intelligence Agency, which analyzes and provides intelligence for "combat and noncombat military missions."
While Flynn says he was ousted for his strong views on radical Islam, insiders tell a different story. "The claim has left former superiors seething, including Director of National Intelligence James R. Clapper Jr., according to current and former officials who said Flynn was removed because of management problems," the Washington Post reports. 
Then there's his close relationship with Russian President Vladimir Putin. Flynn accepted an invitation to give a paid speech at a gala for the 10th anniversary of Russia Today, the Kremlin-owned news outlet. Flynn was seated next to the Russian president himself.
Flynn has publicly defended Russia and Putin on a number of occasions, even demanding a journalist critical of the leader to "stop it with that kind of stuff." Trump has not been quiet about his support for Putin either, which suggests the pairing of Trump and Flynn would boost U.S.-Russia relations.
The former DIA director also has a controversial relationship with Turkish president Recep Tayyip Erdogan. Initially deeply critical of the country, Flynn pulled an about-face, lauding Erdogan and Turkey in a Hill op-ed published Nov. 8. Flynn also took the opportunity to chastise one of Erdogan's greatest political foes, Fethullah Gülen.
Incidentally, his consulting firm, Flynn Intel Group, recently got hired to lobby Congress by a firm fronting for a Turkish company run by Ekim Alptekin, who happens to serve on the Foreign Economic Relations Board of Turkey. Alptekin is widely known to be a friend and supporter of Erdogan's.
Shady international ties notwithstanding, Flynn's staunchly pro-Trump stance has led him to be chastised by a number of high-profile generals. 
"[F]or retired senior officers to take leading and vocal roles as clearly partisan figures is a violation of the ethos and professionalism of apolitical military service," former chairman of the Joint Chiefs of Staff Michael Mullen said in a written statement, according to the Washington Post. 
Retired Gen. Stanley A. McChrystal, formerly head of the Joint Special Operations Command, has previously echoed this sentiment in regards to Flynn.
The numerous allegations made against Flynn suggest potential conflicts of interest, should he officially become national security adviser.