Woman with lupus wears headscarf and finds her car vandalized with "hijab wearing bitch"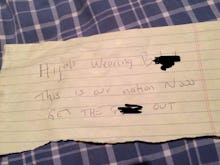 Even non-Muslim women who cover their hair are being attacked.
The police department in East Bay Regional Park is investigating an apparent hate crime and auto burglary in Fremont, California, after a woman who wore a headscarf returned to her car to find a note containing anti-Muslim rhetoric. The car windows were smashed, and her checkbook and purse were stolen.
"Hijab wearing bitch," the note read. "This is our nation now, get the fuck out."
Nicki Pancholy, who is not Muslim, wraps her hair with a bandana because she has lupus, an autoimmune disease that can affect the skin, joints and organs inside the body.
"When I saw it, I was in shock," Pancholy told NBC Bay Area about the note. "That someone would feel so much hate to do this. I realize that this is the climate after this election. But I didn't realize someone would be so ignorant and in so much pain to cause so much harm."
It's important to note that while Islam is not a race, Islamophobia is a racialized concept. Sikh men, who often wear turbans and long beards, have often been physically and verbally assaulted because others thought they were Muslim.
Fremont has become a vibrant and diverse city in the San Francisco Bay Area, according to Fremont City Councilman-elect Raj Salwan. However, due to the influx of many South Asian immigrants, there's a sense of fear permeating the city.
"I think there's a lot of insecurity right now, both economic and cultural," Salwan — who NBC Bay Area reported is a friend of Pancholy's — told San Francisco's CBS affiliate. "And some folks are feeling that they're losing America as they remember it."
This incident is one of many since Donald Trump's presidential win on Nov. 8. As of Monday, the Southern Poverty Law Center had recorded 437 reports of "hateful intimidation and harassment" since the day after the election. Trump has campaigned on the vilification of Muslim Americans and other minorities. On Monday the FBI reported there was a 67% increase of anti-Muslim hate crimes in 2015.