Who is Michael Flynn? Here are 5 things you should know.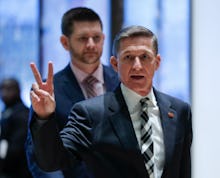 President-elect Donald Trump has picked retired Lt. Gen. Michael Flynn as his national security adviser, an undisclosed source told CNBC on Wednesday. In addition to Flynn, Trump is expected to add more retired army personnel to his cabinet, rather than governors or senators.   
Who is Michael Flynn? Here are five facts to know about him:
1. He sees Russia as a military ally
Like Trump, Flynn sees a military ally in Vladimir Putin. Flynn was seen sitting next to Putin during a banquet in Moscow, the NY Daily News reported. On numerous occasions, he has appeared on Russia Today, a TV channel that is said to be the Kremlin's mouthpiece. (Somewhat paradoxically, Flynn wrote that Russia was helping radical Islamists in his book, The Field of Fight.)
2. Flynn wrote a book on defeating "radical Islam"
He once tweeted "fear of Muslims is RATIONAL," a thought that aligns with his most recent book, The Field of Fight: How We Can Win the Global War Against Radical Islam and Its Allies. In the book, he claims that the U.S. is losing a "world war" against radical Islam due to "political correctness." He adds that American Islamists want to create an "Islamic state right here at home," though he's offered no proof to back up such a statement. 
3. He's a lifelong Democrat
Though he's affiliated with the Democratic party, he has butted heads with the Obama administration. In 2014, Flynn abruptly ended his tenure at the Defense Intelligence Agency due to clashes with President Obama and other members of the Pentagon spy service. During a speech at the Republican convention in July, Flynn accused President Obama and Hillary Clinton of "betraying the core principles of the United States." At one point in his speech, Flynn even led the crowd to chant "Lock her up!"
4. Trump considered him as a possible running mate
In May, CNN asked Flynn's chief of staff about the possibility of joining Trump's presidential ticket, to which he said Flynn would "not dismiss the idea." Though Trump ultimately selected Mike Pence, Flynn was considered a potential running mates thanks to his role as an informal adviser on ISIS, Iran and the military.
5. He believes in an updated version of Bush's "axis of evil" 
In his book Field of Fight, Flynn writes that radical Islamists have colluded with countries that "share their hatred of the West, particularly the United States and Israel. Those allies include North Korea, Russia, China, Cuba and Venezuela," as cited by the Intercept. 
The same publication interviewed Malcolm Nance, a 35-year expert on counterintelligence and intelligence, who said that Flynn's updated and expanded version of George W. Bush's axis of evil "strains credulity." Nance likens Flynn's analysis of the so-called connection between ISIS and the governments of North Korea, Venezuela and Cuba to the plot of "a Tom Clancy novel." 
Andrew Bacevich, a professor of history and international relations at Boston University, added that "anybody who thinks Venezuela and Cuba pose a threat to the United States is truly unhinged."