'Pokémon Go' Nest Location Updates and Changes: The 7th nest migration is here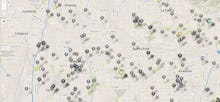 Weren't you excited when the sixth nest migration in Pokémon Go delivered some awesome Pokémon nests nearby? 
Yeah, they're gone now.
Pokémon Go fan community the Silph Road has reported that the seventh nest migration in Pokémon Go is live, meaning it's time for fans to start the process of finding and confirming the locations of Pokémon nests all over again.
Pokémon Go nest location changes and updates: Use the Silph Road's Global Nest Atlas to track nest locations following a migration
"Nests" in Pokémon Go are locations that consistently spawn a specific type of Pokémon, and nests are always changing locations. The Silph Road developed its Global Nest Atlas to help Pokémon Go players find new nests quickly following a migration.
In case you didn't get in on the Atlas following the sixth nest migration, the way the Atlas works is by aggregating crowdsourced data, specifically reports of nest sightings. The Atlas also has a bunch of useful filters, like viewing only confirmed nest locations and searching by specific species of Pokémon.
If you want to contribute to the Atlas, you'll first need to join the Silph Road and click the link for "Join the road" on the left side of the screen. Then you'll be allowed to report new Pokémon nests and help out your fellow trainers.
Pokémon Go hacks, tips and tricks don't end with nest location updates
If you're a dedicated Pokémon Go player who's diving into the Global Nest Atlas already, you may also want to check out Mic's Pokémon Go guides. Here's everything you need to know about creating new PokéStops, setting up the best gym attackers and the best gym defenders, and how to maximize your chances to catch Pokémon.