How many homeless people are there in the US?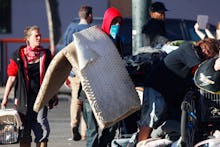 Homelessness across the United States declined by 3% between 2015 and 2016, but is still spiking in key cities like Los Angeles, according to a new U.S. Department of Housing and Urban Development report released Thursday.
High housing prices in places with the largest populations of homeless people were one key factor explaining the geographic inconsistency, said Brian Sullivan, supervisory public affairs specialist at the HUD.
"When you talk about ... in particular, the Los Angeles area, there is a crisis in terms of [housing] availability," Sullivan said in a phone interview. "There is no room at the inn."
Homelessness rose by 12% in Los Angeles and more than 14% in Washington, D.C., in the past year.
The HUD also found more people are living on the street — a phenomenon that's distinct from the overall size of the population of homeless people, since many people find temporary living situations in shelters. There was a 2% increase in people physically living outside, the report found.
Many homeless people say they actually prefer living on the street, according to a report by the New York Daily News, because shelters can be dangerous and violent: Records from New York City show that in 2015 there were roughly five so-called "critical incidents" in the city's shelter system each day.
Of course, weather also makes a difference: On one night in January 2016, the HUD found, 96% of people experiencing homelessness in New York City were sheltered — while the figure was only 25% in Los Angeles, where most homeless people live in cars, tents and other outdoor encampments.
Overall, 1 in 5 homeless people in the U.S. lives in New York City or LA.
Other key demographic details from the report: In 2016, the reported population of homeless people was nearly 40% female, about 60% male and 0.3% transgender; more than 22% Hispanic; about 48% white; about 39% African-American; 7.2% mixed race; 2.8% Native American; 1.6% Pacific Islander; and 1% Asian.
The total number of homeless people the HUD measured on the one night in January 2016 was 549,928.
Unaccompanied homeless people under the age of 25 made up about 7% of the population, while military veterans comprised a little more than 9%.
President Barack Obama made helping homeless veterans in particular a key priority of his administration, and bipartisan support for his policies helped drive down the number of homeless vets by 17% in the past year, NPR reported.
But nearly 40,000 vets were homeless as of January, and there is a great deal of work to be done regarding homelessness overall under President-elect Donald Trump's administration. On a given night, some 550,000 people were homeless, either living on the street or in shelters, the HUD report found.
Trump has been criticized in the past for insensitivity to homeless people: In the 1980s, he tried to turn one of his developments into a temporary homeless shelter, reportedly with the intention of driving away rent-controlled tenants.
And earlier in 2016, the president-elect drew fire after a group supporting homeless veterans in his native Queens, New York City, asked for assistance — and Trump's campaign sent bumper stickers instead of a donation.