Stephen Hawking says humans have 1,000 years to leave Earth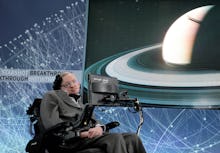 Famed theoretical physicist Stephen Hawking has some grim news for humanity: We have 1,000 years to get off Earth or we're totally screwed.
The 74-year-old Hawking delivered a speech on Tuesday at the Oxford Union, reported the Daily Express, in which he said "I don't think we will survive another 1,000 years without escaping beyond our fragile planet." Hawking reportedly said that humans are speeding towards the end of our time on Earth by destroying and using up its resources — and eventually, it will be impossible for us to continue living here.
Just Wednesday, a new report published by the International Energy Agency, a body made up of 29 countries, suggested that, even if the terms of the Paris Agreement are met, climate change could still cause irreversible damage to the planet.
But Hawking is seemingly optimistic about the future of space colonization and the prospects for scientific progress. "The fact that we humans, who are ourselves mere fundamental particles of nature, have been able to come this close to understanding the laws that govern us and the universe is certainly a triumph," he said on Tuesday.