Jet white iPhone 7 rumor roundup: Is this leaked phone actually happening?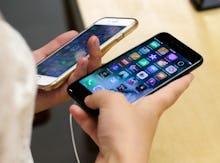 The jet black iPhone 7 made headlines following its release in September. Now, Apple might have another design up its sleeve: Rumors suggest the company is preparing to unveil a jet white iPhone 7 in the near future. 
The report comes by way of Japanese Apple blog Mac Otakara, who refers to it as "pure white" (others are sticking with "jet white"). While the site does have a knack for accurately predicting Apple's dealings (it foresaw the elimination of the headphone jack), it did warn that the information provided "might not be credible." Nevertheless, Mac Otakara cites "supplier parties," though these sources did not indicate a potential release date.
Despite the lack of conclusive evidence, a jet white iPhone 7 isn't out of the realm of possibility. The jet black model was absurdly successful, almost instantly selling out in stores and delaying online shipping time for weeks. Even at the time of writing, Apple's website says the jet black iPhone 7 Plus won't ship for another 3-4 weeks. Perhaps Apple is planning on capitalizing on consumer demand with a similarly shiny new color. 
Right now, the iPhone 7 is available in five colors, including matte black. Fortune points out that the prospective white option could implement the ceramic material used in the Apple Watch Series 2. As with all iPhone rumors, however, this report must be taken with a grain of salt. Mic will update you if the jet white iPhone 7 comes to fruition.