'Overwatch' Sombra guide: Pro player Esca learns it's too soon to use her in tournaments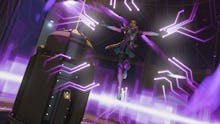 Now that the newest Overwatch character — stealthy, sarcastic hacker Sombra — has finally made her grand debut, players are eager to use her as much as possible. That desire to master Sombra has already seeped into the realm of professional Overwatch too — for better or for worse.
Overwatch Sombra news: The hacker just made her professional match debut.
At APEX, a professional Overwatch tournament hosted in South Korea, Kim "Esca" In-jae of the Lunatic-Hai team decided to have a bit of fun by picking Sombra in their match against Mighty Storm — keep in mind that, at this time, Sombra had been out for less than 24 hours.
Esca, playing offense in the Temple of Anubis map, used Sombra's Thermoptic Camo to attempt a flank on Mighty Storm using the enclosed passageways beside the bridge chokepoint, but was stopped dead in his tracks by a Sleep Dart from Mighty Storm's Ana — played by Kim "SIP" Joon Hyung — and was eliminated shortly thereafter.
Overwatch Sombra guide: There's still hope.
To his credit, Esca managed to pick up some momentum near the end of his Sombra playthrough, thwarting a Sound Barrier ultimate from the opposing team's Lúcio using Sombra's ultimate, EMP — at which point the crowd goes wild. (At approximately 1:10:30 in the video linked below.)
In the end, though, Esca had to accept that picking Sombra so soon after release probably wasn't the best choice. After being eliminated as Sombra once again, Esca swapped to Tracer — and after a few other members of the team made some character swaps — Lunatic-Hai quickly took the point, and the match overall, in a 3-0 victory over Mighty Storm.
Check out the video on Twitch — all the Sombra nonsense begins at the 1:07:05 mark.