10 health and fitness gifts for holiday 2016, including Naturebox and Athleta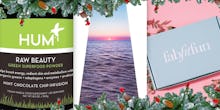 Shopping for your health nut friend for holiday 2016 is the perfect opportunity to get active yourself.
More than likely, you're motivated by them — you know, the friends who are always training for a marathon, eat "clean" and would go nuts without a detox twice a year. They're the health nuts whom we admire and who give us constant #bodygoals inspiration — and shopping for them during the holidays is a treat.
Think outside the box with your health nut family members or friends, because they probably have it all (sorry for those of you eyeing that Fitbit). A snack subscription or cool yoga mat could add convenience to their lives. And more importantly, many of these gifts provide opportunities to join in and be healthy with them, if you're not on it already.
For those of you who liked the wallets we showed you for holiday, take a look at what to get the health nuts in your life below.
Seriously, there is no one under the sun who doesn't like a tasty snack. Naturebox is a convenient and consistent way to enjoy a healthy treat and avoid all those treacherous salty goodies on the grocery store shelves.
We fell for this yoga mat tote for two reasons: Its sleek silver color and its convenient zipper for your small wallet. Doesn't hurt that it has adjustable straps for comfort.
Venture beyond the typical beauty box with a subscription from FabFitFun. Every three months a box is sent with snacks, full-size beauty products and fitness tools (i.e. weights, a workout DVD, a jump rope) to balance your feel-good.
For the person with sensitive skin who's always down for organic options, this SunKissOrganics soap is fantastic. Made up of soothing oats, goat milk and honey, we would highly recommend ordering a couple of these for stocking stuffers.
New York City athletic-wear brand Outdoor Voices gained a ton of momentum in 2015 by tapping into the fashion segment with a Leandra Medine-fronted campaign. Popularity aside, their line of athleisure wear is supportive, stylish and well-made.
No shade, but diet teas are for Instagram models. Try an organic black tea with robust taste from NYC-based company Tib Tib Tea. Their East African Chai is infused with cinnamon and cloves whose oxidized tea leaves come from Aberdare Range, Kenya.
Doubt you've seen a yoga mat this pretty. With that said, get it and gift it to the friend who's as intense about yoga as we are about psychedelic graphics.
This is the ultimate water bottle. It keeps drinks cold for 24 hours and hot for 12. And this specific bottle gives a portion of sales to the U.S. Fund for UNICEF that assists in giving clean drinking water to kids throughout the world.
Los Angeles-based supplement company HUM is fantastic for so many reasons. They literally have an organic supplement for every problem, assign personal nutritionists to find the best options for your body chemistry and make a green powder that has a boat-load of nutrients.
OK, bare with us on this one. The "Uber for hangovers" may seem like a strange gift, but it's actually a great option for providing efficient care to those in need of immediate intravenous treatment. Its founder, Dr. Adam Nadelson, trained over 350 nurses throughout the country to provide the appointment-only fluid treatments. 
"The nurses I hire have experience in E.R. or ICU units," Nadelson said in a phone call. "As a provider, we don't want patients in the E.R. It kills the health system. If we can prevent them from getting admitted that's where it all starts. In-home care goes back to the 19th century and earlier — now it's back."