Protesters marched on Trump transition HQ to demand that he #FireBannon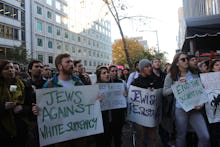 On Thursday morning, a group of more than 200 protesters affiliated with IfNotNow, a progressive organization of American Jews, marched into President-elect Trump's transition headquarters in Washington, D.C., to demand he fire former Breitbart editor and hate speech enthusiast Stephen Bannon.
"He has no qualms expressing his anti-Semitism and racism and hatred of LGBT folks," IfNotNow volunteer organizer Ethan Miller, 25, said of Bannon in a phone interview Thursday. "We knew we had to speak up as American Jews."
Miller described IfNotNow as "a movement of young American Jews committed to ending our community's support for the [Israeli] occupation," but said that the group felt compelled to speak up against Trump's appointment of Bannon as his chief strategist.
Jill Raney, 32, an IfNotNow organizer, described how she had watched Donald Trump's "wink-and-nod messaging to the far right" over the course of his campaign. "Donald Trump himself has retweeted anti-Semitic memes on Twitter ... the Klu Klux Klan endorsed Donald Trump and he has not denounced that," she said.
One of the few anecdotes about Bannon's personal anti-Semitism is the divorce testimony of his ex-wife, who said her former husband didn't want their children going to school "with Jews" because they were "whiny brats." But the far more telling example is that, under his leadership, Breitbart became a news outlet that galvanized the extreme alt-right with hyperbolic, sexist, transphobic and racist content.
As former Breitbart editor Ben Shapiro, who worked closely with Bannon, wrote in the Daily Wire, "under Bannon's Leadership, Breitbart openly embraced the white supremacist alt-right ... with [Milo] Yiannopoulos pushing white ethno-nationalism as a legitimate response to political correctness, and the comment section turning into a cesspool for white supremacist mememakers."
Bannon's appointment to a top position in Trump's cabinet has also been widely viewed as dangerous for people of color, women and LGBTQ people — all groups represented in IfNotNow. 
"We have many trans and queer members, we have Jews of color," Raney said. "IfNotNow is an intersectional movement."
And, as Raney and Miller both made clear, one of the reasons IfNotNow spoke up was because of a "silence" on the part of mainstream American Jewish organizations after Trump made clear that Stephen Bannon would be a vital part of his cabinet. 
"A lot of the major Jewish organizations that claim to speak for the entire community have actually been silent on this issue," Miller said, adding, "[they] haven't spoken up against what is a clear line of anti-Semitism and Islamophobia."
Raney called it "unconscionable" that "any Jewish organization would fail to denounce Stephen Bannon."
As protesters marched from D.C.'s Farragut Square to Trump's transition-team headquarters, the group made a stop outside the office of the Jewish Federations of North America, a mainstream Jewish organization that congratulated Trump on his victory and has not yet released a statement on Trump's appointment of Bannon.
The protest then took over the lobby of the building where Trump's transition team will work until he takes office, occupying the space for some 20 minutes, Miller said. 
"We knew it was important to take the message directly to Trump transition headquarters, where Stephen Bannon is running a lot of the show," Miller said.
Even as protesters rallied against Bannon and against anti-Semitism, people on Twitter who are seemingly affiliated with the white nationalist element of the alt-right co-opted the protest's hashtags, #FireBannon and #JewishResistance, to mock and attack the protestors.
But both Miller and Raney were adamant that there would be more actions to come. 
"We need to speak out loudly now, we can't afford to wait and see," Miller said. "We're gonna have to stand shoulder-to-shoulder with our Muslim brothers and sisters."
As Raney explained it, "This is not the last that you will hear from us, this is the first that you are hearing from us in the Jewish resistance to this new regime."