What stocks does Donald Trump invest in? Here's what we know.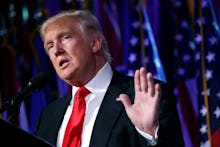 President-elect Donald Trump earned attention in August 2016 for dissing today's stock market — often seen as a barometer for the U.S. economy.
During his first major economic policy speech at the Detroit Economics Club, President-elect Trump said the stock market was "all a big bubble," and around the same time he told Fox Business he has "never been a big investor in the stock market" and suggested people investing in their retirement accounts should get out of stocks, according to a Bloomberg report.
It is hard to know for sure how much money the President-elect has invested in the stock market, though his most recent disclosure to the Federal Election Commission offers clues: The report requires you to list only ranges, but Money estimates Trump's holdings could be up to about $91.5 million. 
Most of the investments are relatively conservative: No more than $8.5 million of Trump's cash is in individual shares of company stock, and the majority is invested in diversified mutual funds and hedge fund holdings, Money reports.
Transition spokesman Jason Miller claims Trump in June sold his stakes in companies including Apple, Microsoft, Google, Google, Nike, and J.P Morgan Chase, but the Washington Post reported that Miller "did not immediately answer why Trump had sold the shares, how much he sold them for, or whether he has bought anything since," and noted that Trump won't have to file another personal financial disclosure until May 2018.
They are also mostly pretty vanilla investments, mostly made up of what's known as "blue chip" stocks — shares in large, established companies which are generally regarded as safer than smaller, newer businesses. 
Here are the ten largest holdings in his equities portfolio, according to the range listed on his May FEC filings, as reported by Fortune and before the reported June sale. 
10. Gilead Sciences: $100,000 to $250,000
As you can see, the stock market actually represents a very small portion of the President-elect's reportedly $3.7 billion fortune.
But it might be worth noting that his largest single stock holding is in a company he has criticized in the past: Back in February, Trump called for a boycott of Apple products over its refusal to cooperate with the FBI in the aftermath of the San Bernardino shooting.
December 6, 2016, 5:29 p.m.: This story has been updated.