What does the attorney general do? 5 things to know.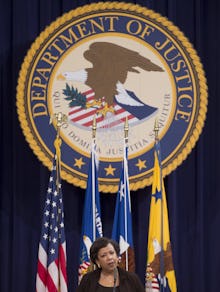 The role of U.S attorney general is a big deal — and President-elect Donald Trump may think Texas Sen. Ted Cruz has what it takes, according to a recent Bloomberg report. 
The U.S. attorney general heads up the United States Justice Department and is chief law officer of the federal government. As the D.O.J. puts it, the U.S. attorney general "represents the United States in legal matters generally and gives advice and opinions to the president and to the heads of the executive departments of the government when so requested."
Here are some key tidbits you should know about the role of our current, and future, U.S. attorney general.
Who is the current attorney general?
The position is currently held by Loretta Lynch, who was appointed by President Barack Obama in April 2015. Lynch, a Harvard University alumna, previously served as the U.S. attorney for the Eastern District of New York. 
Who was the first U.S. attorney general?
Edmund Jennings Randolph, the first U.S. attorney general, was appointed by President George Washington in 1789. Randolph was a delegate to the Continental Congress and a member of the Constitutional Convention.
On September 26, 1789, Randolph was appointed the first attorney general of the United States by President Washington. He was then appointed secretary of state in 1794 and served that position until 1795.
Female U.S. attorney generals have shattered the glass ceiling.
The late Janet Reno, elected by Bill Clinton in 1993, broke the glass ceiling by becoming the first female U.S. attorney general. Reno had an eight-year run in office and was the second-longest serving attorney general in history.
Following in Reno's groundbreaking footsteps, Lynch is the first female African-American U.S. attorney general.  
Checks and balances are in full gear. 
Although U.S. presidents nominate who they feel is fit for the job, the senate must confirm who will take over the position.
The Senate voted 56-43 in favor of Lynch becoming the U.S. attorney general — "one of the closest votes in recent memory" for the position, according to the Hill.
Cruz, among others, is rumored to be the next U.S. attorney general.
Other than Sen. Cruz, Trump has sought out Kansas Secretary of State Kris Kobach and Sen. Jeff Sessions to be potential candidates for the position. 
Only time will tell who will take the cabinet seat. 
Correction: Jan. 8, 2017